Why You Need to Go Skiing Near Arnold, CA
As the weather cools, and the snow begins to fall, the Sierra Nevadas transforms from a summer hiking spot to a skier's wonderland. Each year, our adventurer's Haven provides a myriad of thrilling activities, including skiing near Arnold, CA, from December to February. Whether you are an avid skier or wish to try something new, plan your trip to one of the many world-class winter destinations in the heart of the Sierra Nevada Mountains.
Once you've experienced skiing near Arnold, CA, spend the remainder of your time relaxing and delighting in the charm of our alpine village. By requesting a copy of our free Vacation Guide, you'll have the best area attractions, things to do, and outdoor adventures of Calaveras County in the palm of your hand. Our complimentary pocket planner also includes the best places to stay and relaxing amenities at Courtwood Inn!
Where to Go Skiing Near Arnold, CA
Nestled in Sierra Nevadas, the wintry wonder of the snow-covered mountains unfurls right before your eyes. Grab your winter gear, and hit the slopes for the best skiing near Arnold, CA, which begins at 4000 feet in elevation.
Bear Valley Ski Resort
A bucket list item for many, Bear Valley Ski Resort remains one of the most popular skiing near Arnold, CA, destinations in Sierra Nevadas. The iconic Bear Valley provides some of the best weather for winter recreation and allows for an unforgettable experience. Rent a pair of skis, plan your exclusive lesson, and discover how wonderful this activity can be! Before you go, we suggest purchasing your Bear Valley lift tickets and your preferred parking passes.
Dodge Ridge
Calling all thrill-seekers! Line up your skis, push forward, and navigate the challenging terrain of the Dodge Ridge Wintersports Area in the Stanislaus National Forest. Just 60 miles from Arnold, CA, this skiing place provides something for everyone. Whether you book a private lesson or a public one, you're sure to enjoy your time on the slopes. From lift tickets to exclusive parking during the peak season to top-notch rentals, Dodge Ridge has your new favorite adventures!
Sierra Nevada Adventure Company
Before you make the drive to Bear Valley Mountain, stop in the Sierra Nevada Adventure Company in Arnold. Peruse the various options of winter rentals and choose the equipment to make the most of your time outdoors. From snowboards to snowshoes to skis, you'll have a wonderful time trekking across the frozen landscape with one of their products. Arrive early to grab your gear, purchase your essentials, and catch the first lift to your daily excursion!
Unwind at Courtwood Inn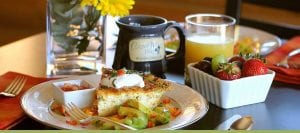 Our hilltop bed and breakfast offers easy access to experiencing the Sierra Nevadas. It's a charming rendezvous point to depart from or return to after your skiing near Arnold, CA, adventures! When you arrive, you'll be delighted by our log-cabin retreat. We offer a selection of cozy accommodations, each of which features a private balcony, comfortable bedding, and a spacious bathroom. Reserve the ideal one for your winter getaway for your special someone or close friends. Once you've checked in, take advantage of one of our dining options. When you wake each morning, join us in our dining room with views of the foothills! Or, join us for a daily happy hour at our inviting bar in the great room. We look forward to hosting you this year for your California vacation!