Your Guide To The Best Northern California Road Trips
When you start planning your next vacation, avoid the large crowds and chaos of the airports. There's no need to fly when you can hop in the car and embark on unbelievable road trips. If you're interested in exploring Northern California, stay at Courtwood Inn. Let our luxurious bed and breakfast be your home base for all of your Northern California road trips. 
For days that you'd rather stay local than take a day trip during your stay at Courtwood Inn, be sure to take a look at our Vacation Guide. It provides local insight on the best restaurants, attractions, outdoor activities, events, and more throughout our charming town of Murphys, CA. 
Amazing
Northern California Road Trips
Yosemite National Park
If you want to experience true beauty, visit Yosemite National Park. The park sits within the Sierra Nevada mountains and is treasured for its giant sequoia trees and iconic vistas. Climb scenic trails and reach vantage points with unbelievable views, such as Cloud's Rest or the Half Dome. After your time in the park, head to Yosemite Village and check out shops, restaurants, and the Yosemite Museum. 
Driving to Yosemite National Park from Courtwood Inn takes less than two hours. You'll follow French Gulch Road and get on CA-49 South. Stay on this route for about 10 miles. Then, follow Rawhide Road to CA-108 West and drive to CA-120 East. You'll continue this way for about an hour until you reach the national park. 
Calaveras County
Wine Country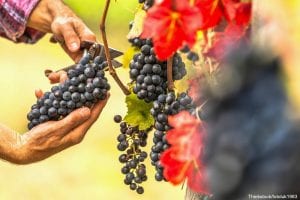 One of the best parts about staying at Courtwood Inn is that you're conveniently located near the picturesque wine country. Throughout the area, you can find about 50 amazing tasting rooms and wineries. Some of our favorite wineries include Milliaire Winery, Val du Vino, Lavender Ridge Vineyard, and many, many more!
You could spend a day driving through the outstanding wine country. If you'd prefer that someone else do the driving, look no further than Courtwood Wine Tasting Tours. Your knowledgeable guide will transport you in our private van to the best wineries in the area. When you combine a stay at Courtwood Inn with an award-winning Courtwood Wine Tasting Tour, you'll save to 10% on your tour and complimentary wine and cheese upon your return to the inn. Plus, we'll drive you to dinner in our charming small town of Murphys and pick you up afterward. 
Calaveras Big Trees State Park
One of our favorite nearby places to enjoy the great outdoors is Calaveras Big Trees State Park. At the park, you can gaze at mesmerizing Giant Sequoias and sweeping views of the Sierra Nevada mountains. There is an array of hiking trails throughout Big Trees State Park, and some of our favorite trails are Dardanelles Overlook, Moran Road, and Lava Bluffs Trail. 
The serene drive from Courtwood Inn to Calaveras Big Trees State Park only takes 30 minutes. Begin by heading east and turn right onto Ponderosa Way. Continue onto St. Johns, turn left onto French Gulch Road, left onto Main Street, and then left onto Big Trees Road. Then, turn left onto CA-4 East and follow that for a little over 14 miles, and you will arrive at the state park. 
Stay in the Heart of Nothern California
As you have read, taking a Northern California road trip to our one of a kind log cabin bed and breakfast is the perfect way to enjoy a relaxing vacation. Then, once you're here, you can embark on more day trips and visit fascinating places throughout the area. Courtwood Inn can be your home away from home, as well as your home base.
Here at Courtwood Inn, all of our well-appointed guest rooms feature private baths, bistro tables, gorgeous panoramic views of the mountains, and more. Each accommodation features a queen or king-sized bed with luxury linens. Plus, each room includes a Jason MicroSilk Hydrotherapy tub, so you can unwind and relax after a fun-filled day. 
Check our availability and start planning your getaway today. We can't wait to host you!