Savor the Tremendous Flavors at 10 of the Best Wineries in Murphys, CA
With over 20 wineries in Calaveras County, spectacular vineyards and delicious wine await around every corner. Stay with us in the heart of the Sierra Foothills and explore the best wineries in Murphys, CA. We urge you to sample wine from the area's diverse portfolio of enriching blends and exquisite flavors. If you did not travel to us as a wine lover, you're sure to leave one and take several bottles of your new favorite blend with you! 
Before traveling to our awe-inspiring area, request a copy of our free Vacation Guide. In the guide, you'll find our recommendations for the best wineries in Murphys, CA, as well as local restaurants, downtown excursions, and unique annual events.  
Experience 10 of the Best Wineries in Murphys, CA
Whether you want to spend the afternoon sampling at one tasting room in downtown Murphys, or you want to visit multiple wineries on a guided tour, Courtwood Inn has you covered.  
1. Aloria Vineyards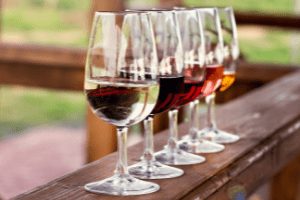 Aloria Vineyards is a world-class winery in Murphys known for producing award-winning wines, such as their Petite Sirah. For your convenience, their tasting room on Main Street is open seven days a week—so there's no excuse not to visit them!   
2. Boyle MacDonald Wines
The Boyle MacDonald Wines tasting room in downtown Murphys is located on Main Street above the Sierra Nevada Adventure Company. This winery has become well known for producing popular Dry Rosés and intriguing rare white wines from red varietals. Stop by Friday through Sunday to taste one of these unique, delicious wines.  
3. Brice Station Vineyards
Brice Station Vineyards houses some of the most sensational blends in Calaveras County. Each bottle of wine is excellently crafted from fresh grapes from the rolling fields pressed to perfection. This award-winning winery is nestled at an altitude of 3,300 feet and offers a lavish selection of wines. The cooler climate is similar to that of Napa Valley in California and the Bordeaux regions of France! If you happen to be in town from May to September, attend one of their laidback Summer Concert Series. 
4. Chatom Winery
Since 1990, Chatom Winery has been producing, pouring, and sharing delicious wines. Their winery and tasting room are surrounded by picturesque gardens and picnic areas, so you'll be sure to enjoy their wines while exploring the gorgeous grounds.
5. Hatcher Winery
Hatcher Winery is home to estate vineyards in Angels Camp and Vallecito, in addition to a lovely tasting room in downtown Murphys. Hatcher wines are known for covering a wide spectrum of tastes and being reasonably priced. Current production is from fruit grown right here in the Sierra Foothill region!
6. Indian Rock Vineyards
Indian Rock's The 40-acre vineyard at Indian Rock is home to over 15 varietals, which produce over two dozen flavorful wines. They make the only locally grown Pinot Noir in town, and it's a must-try! After your wine tasting, feel free to buy a bottle and enjoy a picnic on the expansive green lawn, play a game of corn-hole, or feed the rainbow trout in their serene pond. 
7. Ironstone Vineyards
When you visit Ironstone Vineyards, your journey begins as soon as you step foot on the property. Not only will you be delighted by incredible wine, but also the breathtaking views of the Sierra Nevada Foothills and stunning Gold Rush Country. In addition, their Ironstone Summer Concert Series features world-renowned talent from June to September. 
8. Milliaire Winery
As the oldest family-owned winery in Murphys, Milliaire Winery has been producing distinctive Zinfandels since 1983. Visit the tasting room and experience pure bliss as you sip on a glass of wine from their serene creek-side patio. Well-behaved dogs are welcome!  
9. Mineral Wines
Since 1993, Mineral Winery has been one of the most premier family-owned boutique wineries. When you arrive at this vineyard, you'll be greeted by a warm welcome from a member of the Henkel family and offered a top-notch glass of wine. If you enjoy a lovely Merlot, this wine aficionado's destination is the place for you.  
10. Newsome Harlow Wines
The next time you stay with us at Courtwood Inn, be sure to make an appointment for a private, seated tasting at Newsome Harlow Wines. One of their most popular blends is called Derailed, which is full-bodied with spicy characters and notes of black cherry.
11. Stevenot Winery
Stevenot Winery is one of Northern California's premier boutique wineries, located in downtown Murphys and in Vallecito here in Calaveras County. They have been producing well-respected wine varietals since the mid-1800s and have won several awards over the years. Visit the tasting room and try their Sparkling Rosé Wine or Classic Zinfandel.
12. Twisted Oak Winery
If you're looking for one of the best wineries in Murphys, CA, you need to visit Twisted Oak Winery. You can take a tour of the facility and taste exceptional wines, such as Tempranillo, Grenache, Mourvedre, and Viognier. From May to October, attend one of the eclectic events showcasing folk, bluegrass, country bands, and comedians. Be sure to ask the friendly staff about the rubber chickens on-site! 
Book Your Stay at Courtwood Inn
After indulging in the spectacular flavors of the best Murphys wines, relax in luxury at Courtwood Inn. Our log cabin retreat sits atop a hill in the Sierra Foothills and overlooks the picturesque San Joaquin Valley. Whether you lounge in your stunning guest room or on our deck, you're sure to find the perfect way to unwind for yourself. We invite you to walk around our bed and breakfast with a glass of wine in hand! 
To enhance your stay with us, request our Courtwood Wine Tasting Tour Package. This exclusive package offers you a special rate on our award-winning winery tour and includes a complimentary wine/appetizer hour at Courtwood Inn. Plus, there's no need to worry about driving to each winery with our tours—we'll chauffeur you to each wine stop!