Get Ready To Go Back in Time at the Ironstone Car Show
If you want to experience the unique style of our mountainside haven, attend one of the unique annual events in Murphys, California. One of our favorite celebrations is the Ironstone Car Show at Ironstone Vineyards in September. Also known as the Ironstone Concours d'Elegance, you'll find an extravagant collection of over 300 antique and classic cars from around the globe. Plus, when you attend, you'll support the Ironstone Concours Foundation and its efforts to empower children to reach their full potential. 
As you plan your getaway to the Sierra Foothills, request a copy of our free Vacation Guide! You'll find our recommendations for the best annual events like the Ironstone Car Show, as well as local wineries, delicious eateries, and historic sites.  
Why the
Ironstone Car Show
Is a Favorite Local Event
When you attend the Ironstone Car Show, our stunning bed and breakfast is just a scenic 10-minute drive from Ironstone Vineyards. Stay with us and get ready to experience this fun-filled annual event! 
The History of the Event
Since 1993, the Ironstone Concours Foundation has sponsored this spectacular showcase. Year after year, the show features a stunning collection of over 300 restored automobiles. The cars include luxurious brands like Rolls Royce, Jaguar, Bentley, and Packard. 
The Incredible Cause
All of the Ironstone Car Show proceeds benefit the Central and Northern California Future Farmers of America (FFA) and local 4-H groups. Money raised also helps fund the California State FFA headquarters in Galt, California, which offers the Calaveras County Fair scholarship program. Overall, the mission is to inspire young people to reach their full potential and aim for success. 
Fascinating Cars
Of course, the show's star is all the unique cars featured at the event. You'll see classic, vintage, antique, and race cars and vintage trailers, and commercial and military vehicles. Agricultural engines and modern exotic cars are showcased as well.   
During the show, you can also attend special forums and classes spotlighting early Fords, streamlined cars, sports cars, exotics, race cars, Coachbuilt luxury marques, and unrestored and original automobiles. 
Experience More at Ironstone Vineyards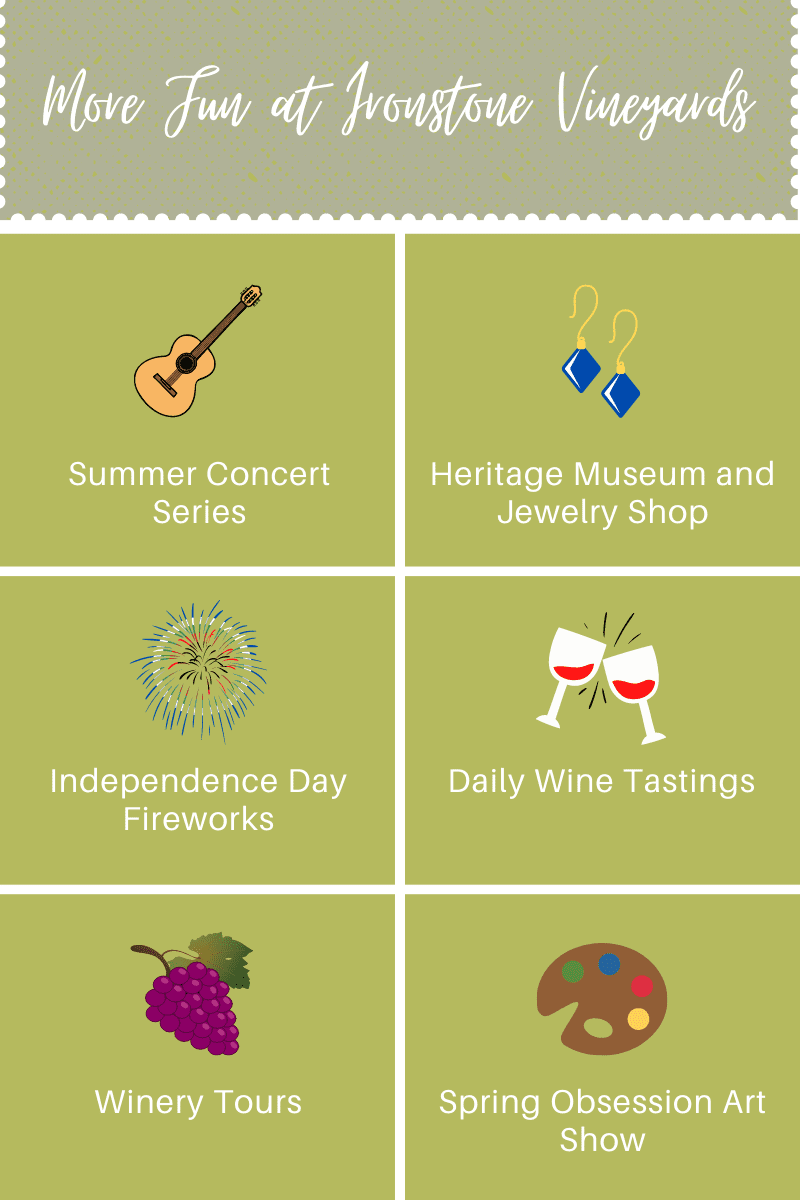 If you want to experience more at Ironstone Vineyards, it's the perfect destination to visit year-round when you're staying with us at Courtwood Inn. On their daily wine tours, you can delight in the exquisite flavors of signature red and white wines. Or, listen to internationally famous bands at the Ironstone Summer Concert Series from May to September. If you're a history buff, meander through the Ironstone Heritage Museum and see the world's largest Crystalline Gold Leaf specimen. Whatever way you decide to spend the day, you'll fall in love with this local business. 
Stay With Us at Courtwood Inn
As you plan your next vacation to Murphys, we invite you to unwind with us at Courtwood Inn. Each of our charming accommodations features a private balcony with stunning views of the Sierra Foothills.  
As you search our accommodations, consider booking our U.S. Open Room. This star-spangled suite is one of our largest rooms and is filled with red, white, and blue accents. You'll find tennis balls in the bedside lamps and other tennis-themed décor throughout the room. This unique accommodation offers ADA features, an oversized bed and a 2-person Jason Microsilk spa tub. Plus, this home-away-from-home also includes a walk-in closet, Keurig coffee maker, and a mini-refrigerator!