Learn About the Best Murphys, California Events
Nestled at the base of the towering Sierra Nevada mountains, our historic gold rush town is bustling every season with spectacular celebrations for everyone to enjoy. If you love learning about local traditions and delighting in a wonderful atmosphere, you're sure to have a blast at any of the exciting events in Murphys, CA! 
Below is a look at what the town of Murphys, California, has in store throughout the year. If you'd like to discover some of the best things to do in Murphys no matter the time of year, download a free copy of our Vacation Guide! It'll be as though you have a virtual tour guide right in the palm of your hand! 
Events in Murphys, CA
, Throughout the Year
Calaveras County offers a fun-filled events calendar with an array of annual festivals and events. Each one showcases our town's unique culture, which is influenced by our wine country, gold rush history, and scenic environment. 
Spring 
The weather is a bit chilly during springtime in Murphys as winter begins to fade away, but for those who enjoy cooler temperatures, it's wonderful weather! Plus, this is when the colorful wildflowers bloom. 
Summer 
If you're looking for beautiful weather, summer is the perfect time to visit Murphys. This is the time of year where you'll find days that are mostly clear and sunny, with temperatures in the upper 70s to the high 80s.  This pleasant weather makes for the perfect setting for outdoor concerts, live music, and exciting festivals, and we've got plenty! 
Fall 
As summer moves into fall, the crowds thin and the weather cools down. However, this doesn't mean the activity slows down! Car shows and events centered around special holidays, like Halloween, mean you'll always have something fun to do. 
Winter 
Murphys quiets down during the winter, as the cooler weather deters warm-weather travelers. This means that winter is one of the most affordable times to visit! Plus, the holiday season is alive with cheerfully festive events! 
---
More Fun-Filled Wine Focused Events
In addition to the annual events listed above, Murphys always has wine-related events occurring. Everywhere you turn, there's a wine tasting at a local winery, vineyard, or tasting room!
Or, bounce around on your own at some of our favorite places for wine tastings.
---
Host Your Next Special Event in Murphys at Courtwood Inn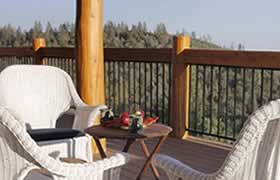 Courtwood Inn is available to host your next special event from business retreats and family reunions to small elopements and girlfriends getaways. Whatever the occasion, Courtwood Inn is happy to host a variety of special events in Murphys, CA. With plenty of room for gatherings and a beautiful out of the way setting, but with the great town of Murphys so close, Courtwood Inn offers luxury and comfort for your hosted event. Give us a call and we'll help you plan the details and check availability.
---
Family Reunions, Business Retreats and More!
Five guest rooms are available for events. Several smaller configurations are workable too. We will help you plan your event and work with other local resources such as caterers, rafting companies, and wineries to fit your needs. Please call the Inn so we may discuss opportunities for your special event.

Looking for A Romantic Venue for Your Elopement!
Our large Murphys, CA bed and breakfast provides you with a choice of locations for your event – on the private terrace overlooking the foothills of San Joaquin Valley or the great room on the main floor.
We offer Elopement Packages for up to 18 people. Additionally, you can also select among 'A La Carte' offerings to create your special day, your way. We are also happy to work with you on a customized event and to address your special requests and needs. Please call us at 209-728-8686 to discuss your specific needs.
Bear Valley Ski Getaway
Plan a Ski Getaway at Courtwood Inn in Murphys, California. We'll assist you and your party with planning all the details from lift tickets to snow conditions and directions. Give us a call for availability at 209-728-8686.
Quilting Retreats
Bring your friends to Murphys for a quilting party. Our game room and dining room are available with plenty of outlets and space.
Tennis Getaways
We specialize in fabulous tennis getaways here at Courtwood Inn. Be sure to take a look at our tennis packages when planning your stay!
Courtwood Inn Special Events and Gatherings at the Inn
Come Join the Fun
Courtwood Inn will be hosting a number of exciting events in Murphys, CA throughout the year including wine tasting parties, cooking classes, wine camps and other special theme events. Keep us in mind when you and your friends are looking for a fun getaway. Please check back with us or give us a call to see what's going on at Courtwood Inn.