Experience the Best Wine Tastings in Murphys, CA
Murphys, CA, is home to several fantastic vineyards and their respective tasting rooms. The climate and variations in the soil make for incredible variety, and no two wineries here are alike. Below, we have outlined some of the best wineries around to help you decide where to go for wine tastings in Murphys, CA.
Once you sip your fill of quality wine, you might be wondering where you can go to grab a bite to eat or discover some entertainment. Save time planning and download a copy of our complimentary Vacation Guide for instant access to recommendations for fantastic local spots.
The Best Wine Tasting Rooms in Murphys, CA
There are several excellent wineries tucked away in Murphys, CA. You'll find an incredible array of quality varietals, served in vineyards with stunning views or in lovely tasting rooms. You don't want to miss out on the offerings of any of these distinct wineries! One of the best ways to discover the best wineries in Murphys, CA is by taking a wine tasting tour like the one that we offer. This way, you're sure to taste some of the best wines around without having to worry about transportation. Below are some of the vineyards and tasting rooms that you can discover on a Courtwood Wine Tasting Tour.
Ayrael Vieux Vineyards: The picturesque Ayrael Vieux Vineyards are nestled in a small valley in the Sierra Foothills.
Brice Station Vineyards: Brice Station Vineyards are at altitudes that are among the highest vineyards in California. This has a unique effect upon the fruit from which the wine is made, but also on the lovely setting when you visit the tasting room.
Chatom Winery: Chatom Winery has been making fine wines since 1990. Be sure to stroll through the lovely gardens and picnic areas on the grounds while you are here.
Coppermine: This is the Bordeaux division of the Lavender Ridge Vineyard. The Coppermine tasting room is in Vallecito, and Lavender Ridge's, which focuses on Rhone varietals, is in downtown Murphys.
Irish Vineyards: Come taste the creations from the winery that describes their wines as "elixirs to the good life." Irish Vineyards has tasting rooms in downtown Murphys as well as Vallecito.
Ironstone Vineyards: Ironstone Vineyards is one of our favorites! In addition to their charming tasting room, they have a museum, jewelry shop, gardens, wine caverns, and a popular outdoor amphitheatre.
Mineral Winery: Mineral wines are grown and made right here in Calaveras County. You can try their wines on-site at Mineral Winery or at their tasting room in downtown Murphys.
Twisted Oak Winery: Twisted Oak Winery's focus is on cultivating wine made from grape varieties native to the Mediterranean.
Check out these new tasting rooms in Murphys:
Broll Mountain Tasting Room: This tasting room is on Main Street in Murphys. Step into elegant surroundings as you sample the wines from Broll Mountain Vineyards in the private tasting area.
Boyle MacDonald Wines: Boyle MacDonald Wines' new tasting room is coming soon to downtown Murphys!
Locke Vineyards: This tasting room is a relocation rather than a completely new tasting room. Locke Vineyards has moved their tasting room from Main Street to their onsite remodeled barn.
Unwind at Courtwood Inn
Our beautiful cedar log inn is in a private setting, yet is still close enough to town to be convenient. The views are stunning from our cabin, which sits atop a hill that overlooks sweeping views of the San Joaquin Valley and Sierra Foothills. Each of our rooms has a spacious deck furnished with a table and chairs, perfect for relaxing with a glass of wine. If you decide to take a wine tasting tour, be sure to take advantage of our Courtwood Wine Tasting Tour package! You'll get a 10% discount off the wine tour, and after afternoon wine and cheese, we will drive you to and from Murphys for dinner.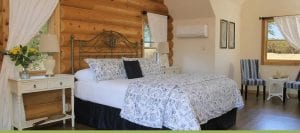 Our lovely French Open room is a wonderful place to recharge after embarking upon a wine tasting in Murphys. Natural light floods in and illuminates the warm hues of the wood floors and walls. The room is decorated in a chic, minimalistic style with a French flair. This beautiful room is on the upper level, so the views will be particularly stunning from your deck. In the morning, a gourmet breakfast will be waiting downstairs. Start your day off right and enjoy seasonal fruit, a homemade muffin or scone, and your choice of a sweet or savory entree, complete with a cup of fresh local coffee.
This is just a preview of all that we offer. Be sure to browse all our accommodations before you book your stay in California Gold Country!