How to Have an Exciting Day on Main Street in Murphys, CA
A town carrying such a distinctive nickname as the "Queen of the Sierras" might bring visions of sprawling city expanses complete with stretches of concrete and tall skyscrapers. Not so with this cozy town tucked into the Sierra Nevada Foothills. Though smaller than you may expect, do not be deceived—this community is thriving, and the Main Street of Murphys, CA, is proof of that. There is a surprising amount to do here, so you may be wondering where to begin exploring this gem of a place.
Download our complimentary Vacation Guide for a comprehensive listing of what else there is to do in the Sierra Foothills. You'll gain instant access to a list of the best restaurants, wineries, places to hike, and more. And a great place to begin exploring is Main Street in Murphys, CA.
What You'll Find on Main Street in Murphys, CA
There are many things to do in Murphys, CA. It all depends on what you're looking for to get out of your day. If you are hungry, explore some of the delicious restaurants. Stop in at one of the many tasting rooms and sample famed California wine. Or, you could browse all the various shops that populate downtown.  

Restaurants
There are quite a variety of restaurants in Murphys, CA. Along Main Street, you'll stumble across establishments proffering international cuisines nestled alongside chic cafes and coffee houses.
Alchemy Market and Cafe
You can pair lush wines with tasty cuisine at this cafe. Alchemy focuses on offering the finest seasonal ingredients while keeping their wine selection in mind to create a meal with elements that complement each other. Every Tuesday and Friday brings live music to enhance your meal.
Aria Bakery & Espresso Cafe
Aria Bakery has all the delicious food you'd expect from a bakery, including a variety of pastries, muffins, tarts, and sandwiches. They have a full coffee menu, too, so you can sip a hot or cold beverage while you eat your breakfast.
Firewood & Grounds
Grounds started as a coffee, pastry, and sandwich shop, but then expanded its menu which now includes breakfast, lunch, dinner, and a full bar. Its sister restaurant, Firewood, offers casual eats like pizza, burgers, and tacos in a gourmet atmosphere.
JoMa's Artisan Ice Cream
Indulge in fresh, homemade ice cream at JoMa's Artisan Ice Cream. Their ice cream is locally made with as many natural ingredients as possible. They have classic flavors like vanilla and cookies and cream as well as unique combinations like mango, saffron, and rose ice cream.
Murphys Pourhouse
Come here for a refreshing craft brew. Murphys Pourhouse has a wide selection of craft beers from around the world. You'll find its friendly atmosphere in historic downtown Murphys. There's the option of sitting inside in the air conditioning or outside in the sun.

Wine Tasting
The following wineries in Murphys, CA, and their respective tasting rooms only skim the surface of what's available here. The town is home to over 24 family-owned and operated wineries. Many of these are on Main Street within walking distance of each other.
Black Sheep Winery
The focus here is on small batches of limited-release wines. Black Sheep Winery specializes in Zinfandels and Rhone varietals, but they also make several red wines.
Broll Mountain Vineyards
Broll Mountain Vineyards operates upon the principle that the best wine comes from the best grapes. Their dedication to this effort is reflected in both the restoration of their vineyard and the building they built to house their carefully crafted tasting room.
Four Winds Cellars
This vineyard expends considerable effort to make quality wine. Four Winds Cellars carefully cultivates their wines from the same vineyards year after year, which gives the vintner John Gibson an intimate familiarity with the fruits and subsequent wine produced.
Hovey Wine
At the Hovey Winery, you will discover a winemaking company that enjoys national recognition. The person largely responsible for the success of the winery is Chuck Hovey. He introduced varietals like Tempranillo, Albarino, and Verdelho to the esteemed wine market of the Sierra Foothills. These are not the only kinds of wine available for tasting though, so stop by and see what other tasty creations they produce!
Villa Vallecito Vineyards
The tasting room of Villa Vallecito Vineyards works to bring a slice of the atmosphere of the vineyard to tasters. This tasting room invites you to "sip wine surrounded by Old World Mexican decor" while enjoying canvases that depict the panoramic views found in the vineyard.

Shopping
A variety of shops grace Main Street. With retailers that specialize in things for the home to clothing boutiques and toy stores, there is sure to be something for everyone among the shops of downtown Murphys.
Art on Main
Be sure to visit this contemporary fine art gallery dedicated to the promotion of artists from Calaveras County and the surrounding foothills. Art on Main displays works from over 30 artists, featuring mediums as diverse as painting, photography, sculptures, jewelry, and even etching.
Creative Cookware
If you are a culinary enthusiast of any caliber, you are sure to be delighted by this store. Browse Creative Cookware's selection of unique, locally and internationally produced cookbooks. Or, peruse locally produced products and specialty imported foods like pasta, olive oil, balsamic vinegar, and salts and spices.
Murphys Motorcycle Company
This uncommon store specializes in casual motorcycle clothing with a vintage edge. Some of the clothes at Murphys Motorcycle Company have custom graphics on them that commemorate local events. In addition to their attire, you can find gifts and accessories for the motorcycle enthusiast in your life.
Murphys Thrift Store
Thrift stores are a mainstay of bargain hunters everywhere. You never know what you might find here at Murphys Thrift Store among the clothes, books, jewelry, furniture, and more. They even have periodic sales on their already significantly discounted goods. Plus, all sales profit programs at the Murphys Senior Center.

Events on Main Street in Murphys, CA
This town always has something happening, whether it is a reoccurring or a special event! Be sure to take a look at the calendar of events for Murphys, CA. Here are some upcoming affairs, to give you an idea.
Independence Day Celebration at Ironstone Vineyards
July 7
This celebration will feature live music, family fun, food and drinks, a rock wall, fire jugglers, and more!
Second Sunday Artisan Tasting Series
Second Sundays
This is a tasting series that introduces you to the art of pairing cheese with wine. You'll taste four kinds of artisan cheeses with four Rhone wines.
Murphys Classic Car Night
Every third Thursday
Bring your classic car downtown to the Murphys Historic Hotel and spend time with other owners of vintage vehicles for Classic Car Night. There will be a DJ playing music from the 50s, and food and drinks will be available.
Unwind at Courtwood Inn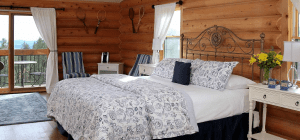 After a full day of meandering through the shops, wineries, and restaurants of downtown Murphys, return to a peaceful hilltop retreat. Courtwood Inn's cedar lodge sits atop a 5-acre hilltop amidst spectacular views of the San Joaquin Valley. Our specialty is tennis, so if you'd like to get a workout while you are here, improve your tennis game, or meet fellow enthusiasts, this is the place for you. Our tennis courts enjoy the same magnificent views of the valley as the inn.
Book the breezy French Open and relax amidst the charming decor. Marvel at the high ceilings and fragrant cedar walls complemented by the delicate floral design on the linens of the king-sized bed. Sip a glass of wine on your private balcony as you watch the sun sink down over the picturesque valley.
If you'd like a different theme, browse our other rooms. There's sure to be something that will appeal to you.
Check our availability and book today!