Your Ultimate Guide to the Best Hiking in Murphys, CA
California's famously temperate weather paired with the incredible natural beauty of the region make for fantastic hiking opportunities. Since there are so many places to explore, you'll want to be sure to visit the top spots. What follows is a list of some of the best places to go hiking in Murphys, CA.
Once you have worked up a sweat from hiking, you may have worked up an appetite, too. Or, you might just want to see what else this area has to offer. Download our complimentary Vacation Guide and gain instant access to our recommendations for the top things to do here. In addition to hiking in Murphys, CA, you'll find the top restaurants, shopping destinations, festivals and events, and more!
Beautiful Spots to Go Hiking in Murphys, CA
These Northern California hiking trails near Murphys are some of the best available. With that in mind, be sure to follow hiking etiquette. Not only is it important to be polite and share the natural beauty of California with other hikers, but also following practices like not littering and being respectful of wildlife and vegetation aid in preserving these places for everyone.
Natural Bridges
There are many ways to explore Natural Bridges. You can hike the Natural Bridges Trail, which will take you to spectacular limestone caverns that exist thanks to Coyote Creek. Or, you can go spelunking and explore the many caves.
Other Caves in the Area
If you want to see more caves after exploring Natural Bridges, visit some of the other hidden treasures in the area! Some of these dark, wondrous places only require you to amble throughout the caverns. Others involve hiking, wall-climbing, and fitting through tight spaces.
Arnold Rim Trail
If you'd like your hike to include panoramic views, Arnold Rim Trail is a good place to go. There are several different hikes here, which end in lookout points that afford expansive views, most notably the Top of the World Trail. You can walk, bike, or even ride a horse on this trail that takes you through lush greenery.
Duchess Mine Trail
The Duchess Mine Trail is a 4-mile loop trail that takes hikers by the remains of the Duchess Mine which is a relic of the gold rush era. You'll also see Table Mountain, which is a very old lava flow. Keep an eye out for the colorful wildflowers as you hike or bike this trail!
Calaveras Big Trees State Park
While perhaps simplistic, the name "Big Trees" is apt, as it is home to giant sequoias, hundreds of feet tall and some thousands of years old. There are also pine, cedar, dogwood, and fir trees as well as a variety of wildflowers. Calaveras Big Trees State Park has several different places to hike, including trails like the one in South Grove, which takes you through a grove of giant sequoias.
Dragoon Gulch Trail
The Dragoon Gulch Trail contains several trails which take you along a seasonal creek and under a canopy of oak trees to lookouts with expansive views of Sonora and surrounding mountains. To fully plan your excursion, consult the online map which details all the trails here.
Stay at the Serene Courtwood Inn
The sights and vistas you will see on these hikes may make you want to say. When you stay at Courtwood Inn, you won't have to! Our bed and breakfast is on a secluded 5-acre hilltop that looks out over spectacular views of the San Joaquin Valley. Do you still have some energy after your Murphys hiking excursion? Play a game of tennis at one of our tennis courts, which also look out over the picturesque valley. Our rooms at the lodge all have private balconies with beautiful views. We also have several specials if you're looking for a little extra. Take advantage of our Ironstone concert package, which includes a ride to and from the concert. Or, pamper yourself with the "Game, Set, Massage" special.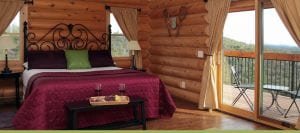 Can't decide which room to stay in at our lovely log cabin retreat? Check out the Wimbledon. Wake up in a Cal King bed, brew a cup of fresh coffee in the Keurig, and enjoy it on your private balcony that overlooks the valley. The room has high vaulted ceilings and is decorated according to the traditional Wimbledon theme.
Check our availability and book your stay to experience the best of Murphys and the surrounding area.