Exciting Things to Do in Columbia, CA
Nestled in the heart of the California Mother Lode is a bustling, fun town called Columbia. Columbia, CA, is a historic gold rush town-turned state park. This town has the largest single collection of existing gold rush era structures in the state of California. This includes places like the Columbia School House, which was California's first two-story brick schoolhouse. However, its historic attractions are just some of the many things to do in Columbia, CA.
Download our complimentary Vacation Guide and gain instant access to our top recommendations for planning the perfect trip. It is full of all kinds of suggestions for the best things to do in Columbia, CA, places to eat, and more. Request your copy today!
Things to Do in Columbia State Historic Park, Columbia, CA
Step back in history and spend a fun day in Columbia! You will interact with merchants dressed in 1850s attire, and you can peruse the many shops and boutiques that specialize in 19th-century goods. These goods range from reproductions of books you would find in circulation at the time to posters to leather goods. There are also several places that offer treats like handmade candy or ice cream, and of course, a saloon or two.
Columbia also has several exciting things to do, like panning for gold and taking a stagecoach ride. There is also an old-time photography studio with a wide variety of costumes and props. Or, you can visit a working blacksmith shop.
Columbia's offerings do not stop there. As Columbia is a state historic park, it has many opportunities to learn about its past. Not only is admission to the park free (and parking, too), but there are also free guided tours. There are also several living history demonstrations as well as special events. The town itself is brimming with history though, shown through its historically themed shops and events, so even if you do not take a guided tour, you can still enjoy this slice of the past.
Come Back and Unwind at the Courtwood Inn
Step back into modern comfort after spending a day in the 19th century. Our lovely rooms are in the Sierra Foothills with views of the San Joaquin Valley. Sip a glass of deep red or crisp white wine while relaxing on a balcony. Play a game of tennis, or receive a soothing massage. No matter what you choose to do while staying at the Courtwood Inn, rest assured that you'll have access to the highest levels of comfort and luxury.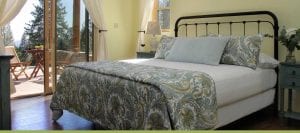 Stay in the Australian Open and enjoy magnificent views right from your king-sized bed. This room radiates with natural beauty, with an abundance of natural light pouring in and a stone-tiled shower. This room has a private patio entrance so you can take full advantage of the magnificent views from the comfort of an intimate vantage point. Vacation in a secluded location near the best that California has to offer with Courtwood Inn! Browse our available rooms now and check availability.