What Is the Calaveras Winegrape Alliance?
Anytime there is a culture of a specialized pastime, there will be a community that springs up around that culture. The Wine Country of California is no different. It is ideal for the cultivation of wine, and by extension, the cultivation of communities centered around wine. The Calaveras Winegrape Alliance is one such community. They are dedicated to educating the public about Calaveras County wine and accomplish this through events like the Murphys Presidents Day Wine Weekend and classes for winegrowers.
Of course, California has much more to offer in the way of specialists than just its wine culture. While the Calaveras Winegrape Alliance is in good company as wine enthusiasts, wine is but one area that enjoys dedicated aficionados. Murphys, CA, is a sought-out destination for wine-lovers as well as those who love shopping, dining, and the great outdoors. Download our Vacation Guide for an overview of all the types of activities you can enjoy while staying in California. It is completely free and presents the best of what is available so you don't have to waste time sifting through all the possibilities.
An Overview of the Calaveras Winegrape Alliance
The Calaveras Winegrape Alliance was established in 1989 by Calaveras County families. They created it to increase awareness about all the types of wines produced in Calaveras County or produced from Calaveras grapes. Calaveras County is located in California's historic Sierra Foothills region, which is also an American Viticultural Area. The vineyards in this region are known as "Gold Rush Vineyards," as this area was once the epicenter of the historic Gold Rush.
The members of the board comprise people from various wineries in Calaveras County, primarily within the Murphys wine region. The Calaveras Winegrape Alliance has a map of the wineries in Calaveras County (including Murphys) available on its website.
Types of Wine Produced in Calaveras County
There are more than three dozen varietals of wine grown in the sunny vineyards of Calaveras County. Calaveras County is unique for the Spanish and Italian varietals that do well here. According to the Calaveras Winegrape Alliance's website, these include "Barbera, Tempranillo, Mourvedre, Nebbiolo, Grenache, Graciano, Toringa, Albarino, Marsanne, Verdelho and Symphony as well as old-vine Zinfandels, hearty and robust Cabernet, and Petite Syrah."
The best way to learn about the wines that Calaveras County produces, of course, is to taste them! Calaveras Winegrape Alliance is invested in facilitating opportunities for this, too, and every year sponsors the Murphys Presidents' Day Wine Weekend. This Calaveras County wine event is an excellent way to experience some of the best wineries that Calaveras County has to offer. It happens every year in February. The Calaveras County Alliance has an events calendar that you can check to see a full list of the events that they sponsor.
Stay in Luxury With Courtwood Inn
We are situated perfectly within range of the best wine tastings in Murphys. Historic downtown Murphys offers several tasting rooms and many excellent restaurants. California is a wine-lovers dream, and we would love for you to experience it with us. To this end, we offer a wine tasting tour package which includes transportation. We also have a daily happy hour where we serve local wines alongside artisanal cheeses, crackers, fruit, and munchies.
Our Inn offers fabulous views of the San Joaquin Valley from its 2,500-foot vantage point. The decor is bright, crisp, and clean, inviting you to unwind within the cedar log walls. Each of our rooms offer spectacular views of the San Joaquin Valley from a private deck, patio, or balcony. Courtwood Inn is the perfect place to unwind from a busy life and wind up a tennis serve.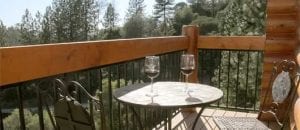 Book the French Open upper-level room to really take in the sunshine and views of the lovely, rolling hills. The king bed is fitted with comfy luxury linens and the bathroom features a spacious tub for you to soak in. Wake up and enjoy fresh-brewed, locally roasted coffee alongside seasonal fruit, a sweet or savory breakfast, and muffins or scones. We take particular care to use only the freshest locally sourced or organic products available. We even have an organic garden and orchard that we hope to one day use to supply our meals.
Come stay at our eco-friendly, tennis-themed bed and breakfast. Check our availability and book today!
Featured Photo by Jonathan Colon https://skatesphere.com/