A California Eco-Friendly Bed and Breakfast
Celebrating the World of Tennis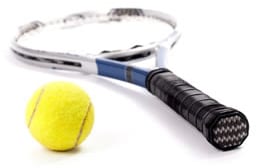 Courtwood Inn was built as an eco-friendly bed and breakfast with energy efficient windows, optimal overhangs for passive solar heating, light reflecting roofing, low VOC paints and ultra-efficient heating and cooling. Plus, our log walls are inherently good insulators. Besides landscaping with drought resistant plants, water from our on-site well is used for the fruit trees, herbs, edible plants and vegetables in our garden, and is filtered for personal use.
Book your stay at Courtwood Inn today!
Gift Certificates
Experience Authentic Log Cabin Architecture
Authentic log homes are unique and special. The warmth and ambiance of the cedar logs brings out different feelings in every person. To some they represent the romance of the past. To others, the charm is in their strength and rugged beauty.
Our logs were milled by Sierra Log Homes in Chico, Ca. They were sourced from a SFI ecofriendly mill in Oregon using Sierra Nevada, dead standing cedar logs. All of our logs were grade stamped and/or certified. The construction of a log home is a very different process than building a regular house. When you are staying at Courtwood Inn, we're happy to share our experience.
Experience Gorgeous Views of the San Joaquin Valley
At approximately 2500 ft., our southern view takes in the rolling foothills filled with pine trees all the way to the San Joaquin Valley. You can sit back, relax and recharge in the private area outside your room.
Recently Added Features
Electric Car Charging Station – Free for our guests. Charge while you sleep!
Gas Fireplace in Great Room
Solar Electricity
Custom Designed Front Door
History of Murphys, California
Murphys is registered as California Historical Landmark #275. Known as the "Queen of the Sierras," the town came of age in 1848, at the start of the California Gold Rush, when Daniel and John Murphys settled here. Murphys has retained the charm of yesteryear as it has grown into a vibrant, modern community of around 2,000 residents, with all the amenities expected by today's visitors. Many original Gold Rush era buildings are still in use today, and are listed on the National Registry of Historic Places. Murphys once hosted such luminaries as Ulysses S. Grant, Mark Twain, Horatio Alger, and Charles Bolton, aka notorious outlaw "Black Bart." Towering, stately elm trees line Main St., providing a canopy of green that adds to the historic charm and ambiance of the historic streetscape.
Now available at Courtwood Inn:
Two Unlit Asphalt Championship Tennis Courts. Plus… Private Tennis Lessons with Larry and Chris Parker. Book your tennis getaway today.