Your Best Guide to the Calaveras Big Trees State Park
Calling all nature lovers and thrill-seeking adventurers! Courtwood Inn is your rendezvous point for beginning your unforgettable journey in the Sierra Nevada Mountains. One of our favorite outdoor spaces is the Calaveras Big Trees State Park near Arnold, CA! Also known as the Calaveras State Park, this natural haven is open year-round and is where to see big trees in California. Bring your camera, your adventurous spirit, and a sense of wonder with you as you venture through this alpine paradise!
When you request a copy of our free Vacation Guide, you'll find the best restaurants, wonderful shops, and outdoor havens like the Calaveras Big Trees State Park. Our guide also features stunning accommodations and delightful amenities at Courtwood Inn!
A Preview of Your Calaveras Big Trees State Park Experience
Before exploring this natural green space, download the free Calaveras Big Trees State Park trail map or stop in the Visitor Center. Read over our local insights and discover how to create the perfect day at this beloved California State Park!
The History of This Park
In 1852, Augustus T. Dowd, the discoverer of the Calaveras Big Trees, told tall tales of the magnificent forest of Giant Sequoias in the western Sierra Nevadas. Many people did not believe his seemingly far fetched exaggerations, so he leads a group of men to the Calaveras North Grove. From the first sight, they couldn't believe their eyes at these 325-foot natural wonders. Now, the Calaveras State Park is a bucket-list destination for many who want to experience the same feeling of awestruck excitement.
Trails You Need to Hike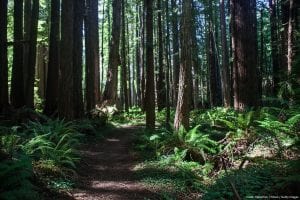 The park and its hiking trails are under the management of the Calaveras Grove Association. Each of these well-marked, self-guided routes showcases the unique mammoth trees, beholds sweeping views of the Sierra Nevadas, and is the perfect place to immerse yourself in the sights, smells, and sounds of this natural haven.
Dardanelles Overlook
Moran Road
Lava Bluffs Trail
You'll pass through the North Grove, South Grove, and even see the smooth-flowing Stanislaus River!
Other Ways to Experience
During the summer months, the forest rangers offer an array of fun-filled programs to help you learn more about the Calaveras Big Trees State Park. The 2-hour North Grove Guided Tours begin at the Visitor Center and take you through this nature preserve to the first discovery spot of these trees. Or, sit around at one of the Campfire Programs. Each of these delightful events is held on Monday, Tuesday, Friday, and Saturday all summer long at the Campfire Center. You don't want to miss out on these exciting experiences!
Courtwood Inn Is Your California Vacation Destination
After you experience the wonder of the Calaveras Big Trees State Park, relax at Courtwood Inn! Our hilltop bed and breakfast offers wonderful specials to help you relax. One of our prized extras is our custom-built deck featuring panoramic views of the San Joaquin Valley.
We invite you to browse our gorgeous selection of accommodations and reserve the ideal one for your vacation. As you search, check out our U.S. Open Room. This patriotic suite is one of our largest rooms and features accents of red, white, and blue. When you walk in, you'll notice the lamps filled with tennis balls and other tennis-themed decors to honor this exciting summer tourney. This spacious accommodation offers ADA features including large entrance doors, an oversized bed, and a 2-person Jason Microsilk spa tub. There is also a lavish walk-in closet, a Keurig coffee maker, and a mini-refrigerator.
Plan your next getaway to Courtwood Inn this year!