Why You Need to Visit Natural Bridges in Calaveras County
Do you seek breathtaking views, winding trails, lush forests, and natural wonders? Then you need to explore the natural bridges in Calaveras County. The Upper Natural Bridges Trail in Vallecito, CA, offers easy access to beautiful landscapes and showcases the stunning natural wonder of the Sierra Foothills. What's the best part about this amazing site? It's less than 10 scenic miles from Courtwood Inn!
When you're planning your trip to California, take a look at our free Vacation Guide! You'll find our recommendations on outdoor adventures like the natural bridges in Calaveras County, as well as local restaurants, the best wine tours, annual events, and so much more. 
How to Discover the
Natural Bridges in Calaveras County
With so many outdoor adventures in our area, it may be challenging to decide which journey to pick while you are here. For us, natural bridges in Calaveras County is a must! Check out our insider tips on how to explore this natural landmark.
Location
The Upper Natural Bridges Trail is a picturesque two-mile round trip hike that is open year-round for visitors. The trail leads you to spectacular limestone caverns that have been carved out by Coyote Creek, which then feeds into New Melones Lake. You'll find the trailhead just off of Parrotts Ferry Road. Keep your eye out for the brown "Natural Bridges Day Use Area" sign on the side of the road.
What You'll Find
As you head down the trail leading to the natural bridges in Calaveras County, you can enjoy open canyon views and the sounds of a trickling creek. You'll also encounter a quaint picnic area near the water's edge that is surrounded by blackberry bushes. As you reach the creek, you'll find water flowing out of a vast cave carved into the ground—it's a natural bridge! 
Follow along the bank of the path and gaze into the cave. You'll find magical rock formations and mesmerizing, colorful caverns. During the wet season, Coyote Creek turns into an exciting natural swimming hole where visitors float through the cave on rafts or swim through with the current.
Stay at Our California
Gold Country
Bed and Breakfast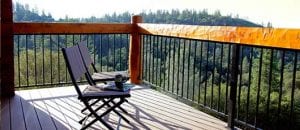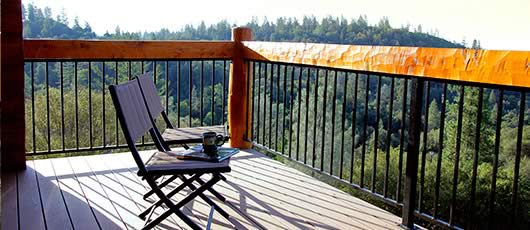 After spending a fun-filled day spent outdoors, retreat to Courtwood Inn for a rejuvenating evening. Our serene inn is nestled among the Sierra Nevada Foothills and sits upon a large hill overlooking gorgeous landscapes. 
You'll delight in our relaxing amenities, such as our homemade breakfast and complimentary happy hour, and find that our accommodations make for the perfect home away from home. Our Wimbledon mini-suite is famous for its fantastic balcony views and California king-sized bed. It also features a luxurious soaking tub and large flatscreen television. Courtwood Inn is the perfect place to spend your next vacation in California, so why wait? Check our availability and start planning your next getaway today!