4 of the Best Things to Experience in Downtown Murphys, CA
Have you ever wondered what it's like to visit a present-day Gold Rush town? Take a stroll through downtown Murphys in Calaveras County to find out! Our charming small town maintains the historical character from the 1800s with magnificent stone buildings while offering the excitement of a booming Main Street. To learn more about the local shops, restaurants, and wine tasting rooms in downtown Murphys—keep reading! 
To find out more about all of our favorite things to do in Calaveras Gold Country, request a copy of our complimentary Vacation Guide.
What Can I Experience in Downtown Murphys, CA?
There's so much to see and do in our incredible town nestled among the Sierra Foothills. Here are our suggestions on the best ways to experience downtown in Murphys, CA!
1. The Rich History
Our little town was founded in 1848 by two Irish brothers, John and Daniel Murphy, who established a trading post and gold mining operation. Other Irish immigrants soon came to the area in search of fortune. Due to the success of gold mining operations, Murphys quickly developed into a bustling town.
Today, you can learn more about Murphys' rich past at the local historic sites and interactive museums. Plus, the town offers free Historic Walking Tours so you can get the inside scoop from a local tour guide. 
2. The Unique Shopping
Many of our shops sit in historic buildings; each one adorned with unique architectural features and plaques detailing their history. The downtown area features an array of locally-owned shops offering one-of-a-kind gifts. From home decor to clothing boutiques to artisan foods, Murphys has everything you need and more. Some of our favorite shops include Art on Main, Marisolio Olive Oil Tasting Bar, Rewined Designs, and more! 
3. The Delectable Restaurants
Are you searching for some of the most delicious food in California? Look no further than the delectable food scene in downtown Murphys. With many fantastic family-owned restaurants, you are sure to find the best place to eat when hunger strikes. Some of the popular favorites include Grounds, Rob's Place, and Murphys Grille. 
Don't forget to start each morning with a hearty meal at Courtwood Inn before heading out for your adventures. Every day we serve up complimentary breakfast, including sweet and savory entrees and homemade baked goods.
4. The
Award-Winning
Wine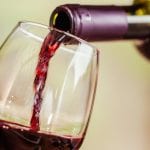 Murphys' famous wine scene includes over two dozen wineries and vineyards. Downtown along Main Street, you'll find many tasting rooms where you can try our amazing wine for yourself. Some fabulous wine tasting rooms include Aloria Vineyards, Calaveras Winegrape Alliance, and Lavendar Ridge Vineyards. 
Here at Courtwood Inn, we offer a wine tasting tour, which makes for a perfect a day trip. Enjoy a laidback ride with a local expert who can tell you all about our wonderful wines here. Book yourself a Courtwood Wine Tasting Tour and explore our beautiful wine country and savor all the delicious blends.
Stay at Courtwood Inn
After you spend the day exploring downtown, spend your evenings with us at Courtwood Inn. Walk out on to our gorgeous deck overlooking the San Joaquin Valley. Choose from any of our spacious guest rooms where you can relax on the plush bed or soak in the hydrotherapy tub. You can also enjoy our daily Happy Hour with wine, artisanal cheese, and fresh fruit as you watch the sun set on another incredible day in Murphys. Ready to book your next getaway? Check our availability and start getting excited now!