Why You Need to Spend the Day at White Pines Lake in CA
During your visit to Calaveras County, take a day to explore the great outdoors and breathe in the fresh mountain air. Take a serene drive upcountry to White Pines Lake in CA. Just one mile outside of Arnold, this picture-perfect lake is a place that people of all ages with varying interests can thoroughly enjoy. 
When you visit the iconic Calaveras County, stay at the lovely Courtwood Inn. It's located in the heart of the county in the historic Gold Rush town of Murphys. To learn more about the best things to see and do in the area, take a look at our free Vacation Guide. 
Getting to White Pines Lake
After waking up in your pristine guest room/suite at Courtwood Inn, jump in the car and head to the one and only White Pines Lake. The drive is relaxing and takes less than 30 minutes. First, take French Gulch Road and Main Street to CA-4 East in Murphys and turn left. Then, follow Blagen Road to Lyons Park, and before you know it, you've arrived at the lake. 
How to Spend the Day at White Pines Lake in CA:
White Pines Community Park
Spread among the towering big trees and shoreline of White Pines Lake, White Pines Community Park is the perfect place to spend the day embracing Mother Nature. The park features picnic tables, BBQ grills, a children's playground, a beach, and a softball field. Plus, it provides unbelievable views of the sparkling lake. 
Outdoor Recreation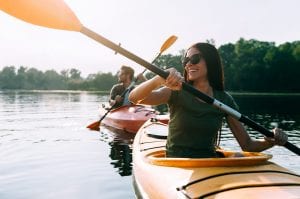 If you're a fan of outdoor adventure, then you'll fall in love with White Pines Lake. The lake provides a fantastic setting for many outdoor activities, such as fishing, swimming, paddleboarding, kayaking, biking, horseback riding, and more! 
Sierra Nevada Logging Museum
Located on the western shore of the lake, you'll find the Sierra Nevada Logging Museum. It sits upon six acres and contains many of the fascinating old machines that were used for logging in Calaveras County. Inside the museum, you can learn about the history of logging and the lumbering industry in the Sierra Nevada.
Arnold Rim Trail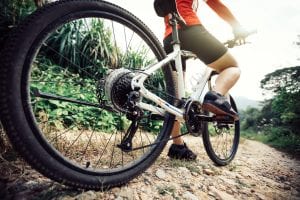 One of the most popular self-guided excursions, the Arnold Rim Trail offers some of the best hiking, sightseeing, and biking activities in Calaveras County. This spectacular trail currently runs from White Pines Lake west to Sheep Ranch Road near Avery. This 10.5-mile section of trail is the first section of what a 35-mile trail connecting with Calaveras Big Trees State Park. If you are a hiker, mountain biker, or equestrian, this trail is sure to please you! 
Stay at Courtwood Inn
Our bed and breakfast, Courtwood Inn, has it all. It sits upon a tranquil 5-acre hilltop and is surrounded by incredible views of California Gold Country Sierra Foothills while providing pristine accommodations. Courtwood Inn is conveniently located near local restaurants, wineries, and scenic attractions like the White Pines Lake in CA. 
Courtwood Inn provides an array of luxurious accommodations to choose from. No matter which you choose, you'll experience top-notch amenities, including private bathrooms with Jason MicroSilk Hydrotherapy Tubs, a private patio or balcony, complimentary snacks and baked goods, and more! If you're ready to start planning your trip to Calaveras County, look at our availability and find your home away from home today.