Satisfy Your Cravings at 7 of the Best Restaurants in Murphys, CA
Do you want to experience some of the best food on the West Coast? Are you ready to savor all the delicious flavors of California? Look no further than the delectable locally-owned restaurants in Murphys, CA. Whether you are looking for a light bite, a four-course meal, or incredible international cuisine, these fantastic eateries are sure to satisfy all your cravings. If you are a guest with us at Courtwood Inn and you have a later dinner reservation, be sure to join us beforehand for artisanal cheese, fresh fruit, and snacks during our complimentary Happy Hour!
If you want to learn more about the impressive establishments and attractions that Murphys has to offer, request a copy of our free Sierra Foothills Vacation Guide! It contains information regarding local events, entertainment venues, shops, and more!
Dine at the Best Restaurants in Murphys, CA
With so many amazing restaurants in Murphys, CA, you're sure to find the perfect place to satisfy your culinary cravings. Here are our recommendations on some of the best ones! 
All the restaurants below are just a 5 – 10 minute drive from our Inn.
1. Alchemy Cafe
Alchemy Cafe includes a vintage-chic restaurant offering American comfort food with an elegant twist. They have an extensive selection of wine to choose from. If you're a fan of live music, stop by on Tuesday and Friday nights to listen to live music from local musicians.
2. Grounds Restaurant
Whether you're in the mood for  lunch or dinner, Grounds Restaurant has got you covered. During lunch, you can enjoy fresh salads and handcrafted sandwiches and savory soups. At dinnertime, tantalize your tastebuds with Forager mushroom risotto, elk medallions, or chicken cordon bleu. Grounds also offers beer, wine, and cocktails. 
3. The Historic Murphys Hotel Restaurant
The Historic Murphys Hotel Restaurant offers some of the most exquisite dining in the Gold Country and is a favorite amongst locals and tourists alike. The menu features signature dishes and is known for its award-winning prime rib and famous fried chicken. Dining outdoors on the patio is recommended.
4. Murphys Grille
"Murphys Grille— home of fresh and flavorful food with something for everyone!" Visit Murphys Grille and enjoy a delicious meal in the dining room or the outdoor seating area. Murphys Grille has a fabulous menu that includes vegetarian and vegan plates, mouthwatering steaks, housemade desserts, and more. The intimate atmosphere pairs perfectly with a glass of wine from their local wine selection.
5. Rob's Place
Rob's Place, their motto is "making it fresh." They pride themselves on providing delicious options for every palate, including vegetarian, vegan, gluten-free, and dairy-free. Their unique menu includes duck wontons, shrimp and red curry, juicy burgers, and more. Plus, their patio is dog-friendly! 
6. V Restaurant, Bistro & Bar
The V Restaurant, Bistro & Bar is a modern European restaurant located in the heart of Murphys. The Bistro Menu includes charcuteries plates, a roasted beet salad, and truffle macaroni and cheese— to start! 
7. Firewood
Nestled on Main Street in downtown Murphys, Firewood is serving up fish tacos and pizza you'll want to devour. The story of how Firewood got started is an interesting one. River Klass is the owner of Grounds Restaurant. At the end of each dinner shift, Klass and his cooks would make their dinner consisting of pizzas, tacos, and burgers made from various ingredients on the line. This gave him the thought, "Why not open a restaurant that serves the food I love to eat?" Just like that, Fireside was born! If you're craving tacos, salads, burgers, fries, or wood-fired pizza, then this is your place.
Stay at Courtwood Inn and Refuel Each Morning with a Delicious Breakfast
After your culinary tour of the restaurants in Murphys, CA, make the short but scenic drive back to Courtwood Inn. Our beautiful rooms are filled with natural light and rustic elements that complement our luxurious log cabin retreat.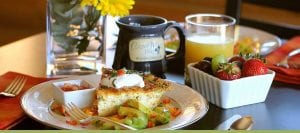 Refuel each morning with our complimentary multi-course breakfast served in our dining room. It's our goal to use only the freshest locally-sourced and organic products available. Savor the delicious, locally roasted coffee from Gold Country Roasters served with our homemade muffins, scones, biscuits. We also make special accommodations for guests who have food allergies or dietary restrictions. Are you ready to eat your way through Murphys? Check our availability and start planning your trip today!