Here Are the Best Breweries in Murphys, CA
Mention Murphys, California and there's a good chance travelers will inevitably have spectacular wine selections come to mind. While this scenic and inviting destination is definitely an oasis of flavor when it comes to reds, whites, and sparkling selections, Murphys is also an amazing place to enjoy a brewery stop! If craft beer is just your style, you'll want to be sure to check out some of the local breweries in Murphys, CA, when you visit.
Breweries in Murphys, CA
Murphys Pourhouse
Known as a top place for friends and family to meet and enjoy time over craft beers and gourmet sandwiches, Murphy's Pourhouse is a must when it comes to rounding out your brewery itinerary. Located at 350 Main Street, this taproom offers up a tasty selection of brews to choose from that originate in California and beyond. Feel free to put those hunger pangs to rest by pairing your beer with a deli sandwich or two. Murphys Pourhouse is known for hosting a variety of events throughout the year as well to make time here as entertaining as it is delicious.
Hinterhause Distilling
Owned by Nate and Bonnie Randall, Hinterhause Distilling is found in nearby Arnold, California at 925 Highway 4. This family-owned and operated distillery was designed to highlight the bounty of the region as well as the rugged and endlessly appealing landscape. It was named to honor the Sierra Nevada wilderness that lends itself to the creation of this stop's tasty creations. It's known for its use of locally sourced ingredients as well as the friendly service that's delivered up with every glass. A stop at Hinterhause Distilling is a chance to savor everything from gin and vodka to other liqueurs that are distilled from Northern California bourbon whiskeys and wines. Guests are invited to stop by and spend time in good company enjoying time in the tasting room where spirits are bottled at 4,000 feet above sea level. The curated selection at Hinterhause Distilling is sure to inspire—especially when a tasting flight is offered up.
The Watering Hole
Relaxing in California style was never easier than for those who head over to The Watering Hole in Murphys. Located at 223 Big Trees Road, this brewery is led by Chef Jason who has been in the culinary business for more than 25 years. A passion for home brewing led Chef Jason to turn the idea of The Watering Hole into a reality. Visitors looking for a restful and delicious moment can stop by and enjoy watching the game on a large television, lingering by the on-site fireplace, or making the most of a brew enjoyed around the outdoor fire pit too. The sequoia wood bar is a wonderful place to cozy up and sip the day away. There are also large tables throughout the dining room for those who are moving on from happy hour to a full dinner option. The curated list of world-class beers, meads, and ciders is designed to impress while the food here rotates too, making it a new treat for the taste buds with every visit.
Where Else to Go
If you're still thirsty after visiting the Murphys Pourhouse or The Watering Hole, several Murphys restaurants serve craft beer or have full bars. If you want to sample the other libation California is famous for, wine tastings are a great way to explore several different local varietals. You can participate in wine tastings at one of the many tasting rooms on Main Street in downtown Murphys, or you can visit the source by traveling to the vineyards that produce the wine.
Book a Stay in Courtwood Inn Today
Close to Murphys but enveloped in privacy, Courtwood Inn is a hidden gem in California's Gold Country. Our cedar log sits on a 5-acre hilltop that looks out to sweeping views of the San Joaquin Valley. You can relax at the inn or spend the day exploring breweries in Murphys, CA; the choice is yours!
Courtwood Inn tastefully blends elegance with a passion for tennis. Our courts enjoy stunning views of the surrounding landscape, and you can even make your vacation a tennis getaway with one of our tennis packages! Additionally, each of our rooms is named and styled after major professional tennis competitions, and when the tournament is going on, the room named after it is 20% off.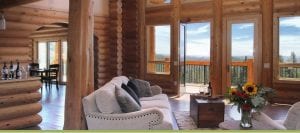 Enjoy luxurious amenities during your stay here, which include private bathrooms with soothing spa tubs, fine linens, a gourmet multi-course breakfast, and an all-day beverage bar and daily happy hour. You may not want to leave your room when you see the incredible sights from your balcony or patio, as each room has panoramic views of the valley and Sierra Foothills.
This is but a sample of what Courtwood Inn has to offer. Browse our accommodations and book your stay in sunny California today!