The Best Tennis Getaways Are in Murphys, CA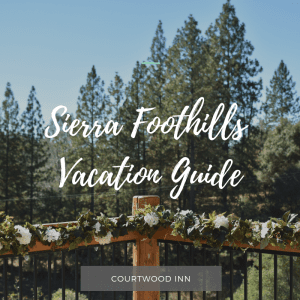 Calling all tennis professionals and lovers of the game! Whether you've won numerous tournaments or just picked up your racket for the first time, we've got the perfect tennis getaway in Northern California. Here at Courtwood Inn, we specialize in tennis getaways. We pay homage to our love of tennis through our luxurious bed and breakfast by hosting retreats, providing tennis lessons, and even decorating the inn in a tennis theme. Learn more below!
Don't forget to download our free Sierra Foothills Vacation Guide!
We Offer Incredible Tennis Getaways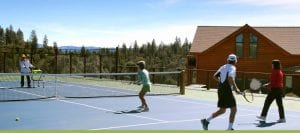 When you visit Murphys, CA, you'll discover many captivating ways to spend your time, but there's nothing like a couple of sets. Here at Courtwood Inn, we have two hard courts with fantastic views of the valley. Additionally, innkeeper and former NorCal USPTA Player of the Year Larry Parker can assist you in developing your strategy and technique during your stay.
Courtwood Inn is the perfect place for you or your team to practice and relax! Grab your racket and bring your A-game for a fun-filled trip.
If you'd like to plan one of the best tennis getaways at Courtwood Inn, we are currently taking group reservations for three to six suites during weekday trips, when the rates are lower. Get a glimpse below at how you'll spend your day during your getaway, and check out our exclusive packages!
Smash Package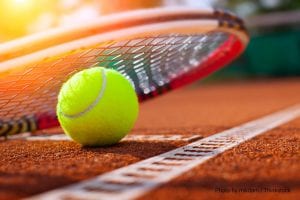 Whether you're a couple interested in playing together or a group of players, with our smash package, you'll have the opportunity to spend three full days playing the sport we love. Here's what you'll experience!

Day 1
On your arrival day, early check-in begins at noon. After you've dropped off your bags in your room, enjoy afternoon play on one of the courts. After your game, join us for a complimentary glass of local wine and gourmet appetizers around 5:30 p.m. – 6 p.m. Then, you'll head into town for dinner on your own — remember to consult our Vacation Guide for our top choices!  Upon your return, a delicious dessert will be waiting for you.
Day 2
Awaken completely refreshed in the morning and enjoy a gourmet multi-course breakfast between 8:30 a.m. to 9:30 a.m. with spectacular views of the foothills from our sunny dining room. The courts will be reserved for you and your group in both the morning and afternoon. From 5 p.m. to 6 p.m., join us for an exclusive wine party with a blind tasting of local wines. You can even win a prize!
Day 3
On your departure day, delight in a different gourmet breakfast for your last meal at Courtwood Inn. Enjoy one last morning of tennis on your reserved court from 9:30 a.m. to 11 a.m. and a late check out at noon!
Ace Package
Our Ace Package is similar to the Smash Package, but it includes an extra 4th day (and another night) as well as a full day of activities on Day 3.
On your third day, enjoy a scrumptious homemade breakfast from 8:30 a.m. to 9 a.m. and a morning of exploring Murphys, sightseeing, or playing tennis on your own.
In the afternoon, you'll play in a coached round robin, followed by a refreshing hour of wine and hors-d'oeuvres. At the end of your day, you'll be treated to a casual farewell dinner. Departure will be the following day by noon, after breakfast and morning play on reserved courts. This package includes a special discount on our rooms.
Love Set Doubles Package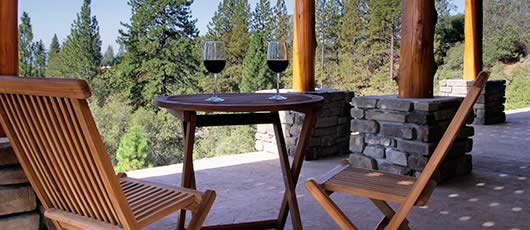 This fabulous package is for 2 doubles pairs and features a two-night stay in specially selected mini-suites. You can arrive on Friday and check out Sunday, arrive on Saturday and checkout Monday (in low season only), or come during the week
Upon arrival, you'll be greeted with a welcome gift of fresh tennis balls and some local wine.
Each day with the Love Set Doubles Package, court time will be reserved for you to practice and play. Challenge yourself in a one-hour doubles strategy clinic for four players with Larry Parker (formerly ranked #373 in the world). This clinic includes evaluation and practice tips for improvement.
Wake up in the mornings to the smell of a freshly prepared breakfast complete with the aromas of roasted coffee. When you're not improving your game on the courts, enjoy a free wine tasting at two local tasting rooms. Additionally, there will be a wine and cheese reception each day before you head to town for dinner, and scrumptious dessert awaiting you upon return.
Golden Set Package
With our Golden Set Package, you can bring your USPTA/PTR certified pro along when you reserve the Smash or Ace Package, who will organize your on-court activities and receive a complimentary room.
Silver Set
Learn how to play like a champion with private lessons from Larry, or receive group instruction/drills and improve everyone's game!
Hit a Winner at Courtwood Inn
When you stay at our stunning bed and breakfast for your tennis getaway, you'll be surrounded by an inviting, relaxing ambiance. We offer a selection of charming guest rooms, each of which is decorated with traditional tennis elements.
Our rooms are named after the Grand Slam championships, and they are the perfect place to relax after a day on the courts. Each features a private bathroom, where you'll find a Jason MicroSilk Hydrotherapy tub along with soft towels and bathrobes. You'll also enjoy a private balcony or patio that has panoramic views of the San Joaquin Valley—a perfect place to watch the sun rise or set.
Book your room, choose your package, and get ready for a fantastic tennis vacation. We can't wait to share our love of tennis and host you this year!
Your next getaway to California awaits with Courtwood Inn!