Here Are the Top 3 California Car Shows You Won't Want to Miss
Each year, visitors from across the country make their way to California to attend some of the best annual California car shows. From classic and antique shows to import and custom car shows, the area is home to thousands of impressive automotive events. Experience one of the top shows listed below to admire extravagant collections of cars from across the globe.
California car shows are just one of the many wonderful things to do in the Sierra Foothills area. For more ideas on ways to spend your time and make the most of your vacation, download our free Vacation Guide. We've compiled our top recommendations on the area's best restaurants, activities, attractions, local events, and more. This is the ultimate resource for Sierra Foothills, California! You can also check out our blogs on the best golf courses near Arnold and why you need to visit Natural Bridges in Calaveras County.
Don't Miss These 3 California Car Shows
Ironstone Car Show
One of our favorite events is the Ironstone Car Show which takes place each year just outside of Murphys, CA, at the Ironstone Vineyards. Discover more than 300 of the world's most impressive vintage automobiles at this fascinating antique and classic car show. In addition, the show features vintage trailers, motorcycles, and wooden boats. Visit our blog to learn more about the Ironstone show!
Sacramento Autorama
The Sacramento Autorama is one of the longest-running indoor car shows in the world. It takes place at the Cal Expo Fairgrounds in Sacramento, CA. Join this fantastic event which includes over 500 show cars, both old and new, competing for awards. You can purchase tickets for the weekend event at the door.
Modesto Annual Graffiti Classic Car Show
Modesto Area Street Rod Association's annual classic car show takes place at the McHenry Village Shopping Center in Modesto, CA. The show will feature many of the most impressive classic cars for visitors to admire. Additionally, enjoy live music, raffle drawings, an awards ceremony, and more!
These are just a few of the wonderful car shows in California! Visit the California Car Shows Calendar for a complete list of events.
Relax at the Courtwood Inn
While in town for one of the top California car shows, we welcome you to stay with us at the Courtwood Inn! Our eco-friendly bed and breakfast in Murphys, California, is the perfect home base for exploring the area. Experience authentic log cabin architecture and gorgeous views of the San Joaquin Valley in one of our cozy accommodations. Each room offers unique features along with luxurious amenities and convenient access to the area's best attractions!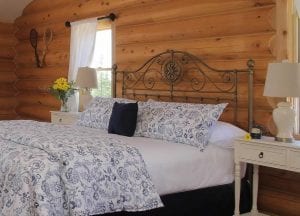 One of our favorite rooms at the Courtwood Inn is the French Open. The inviting space features a private balcony with magnificent mountain views, a cozy California king-sized bed, a large soaking tub, beautiful high cedar-beamed ceilings, and charming French accents. The French Open provides the perfect space to unwind and relax before enjoying another fascinating California day.
Check availability of all our accommodations and book your room today! We look forward hosting your stay.