A Sneak Preview at Your Angels Camp Theatres Experience
Calling all movie buffs and theater lovers! During your travels to Courtwood Inn, consider watching a film at the Angels Camp Theatres. Also known as the Angels 6 Theatres, this vintage cinema is defined by its marquee-style exterior and is located in nearby Angels Camp. Whether you're planning an evening out with your special someone or just looking to watch a new movie, plan to purchase your tickets to a show during your getaway with us.
Angels Camp Theatres isn't the only form of entertainment in our area. Request unlimited access to our complimentary Vacation Guide to find more information on area attractions, performance halls, informative museums, art galleries, and so much more. It's as though you've got a tour guide in the palm of your hand.
Angels Camp Theatres & Everything You Need to Know
Nestled in the heart of the quaint downtown, Angels Camp Theatres is the perfect place to enjoy a movie. Prices for adults are $9.25, and senior pricing is $7.00 as well as the matinee. Order your popcorn, your favorite candy, large drink, and enjoy the show!
Movies to Watch
When you arrive at the Angel Camp Theatres, you'll find a selection of newly released films playing at this theater. From action films to romantic comedies to dramas, you're sure to enjoy watching the many cinematic masterpieces. In fact, you'll be able to see these films in the comfort of luxurious loveseats and plenty of space to feel relaxed during the movie. Check out the marquee online before you arrive to see which movies will be shown in which theatre. You won't be disappointed by your time!
Where to Dine Before or After the Show
If you wish to create the perfect date night for your special someone, reserve your table at one of the many places to eat near the Angel Camp Theatres. Each of the Angel Camp restaurants offers regionally inspired cuisines, marvelous drink menus, and inviting atmospheres. We recommend calling ahead to ensure that you've made a reservation or placed your name on the list. Our suggestions for the top dining establishments include Cascabel Restaurant and Crusco's.
If you wish to stop in downtown Murphys, you'll find a variety of restaurants to enjoy a meal. Savor the sensational tastes in the 19th-century charm and peaceful ambiance of our mountainside town. Review our complimentary Vacation Guide (link above), or check out our list below to review our top choices!
Alchemy
Firewood
Grounds Restaurant
The Lucky Penny Public House
Murphys Grille
V Bistro Murphy's
V Restaurant & Bar
Other Theaters in Northern California
In addition to Angel 6 Theatres, you'll be delighted by the many other movie theaters in the area. From larger-scale chain establishments to smaller boutique establishments, here is a selection of the others to enjoy a film!
Sonora Movie Theater (Sonora Cinema)
Jackson Movie Theater (Jackson Theater)
Galaxy Riverbank IMAX Luxury+ Theatre
Unwind Together at Courtwood Inn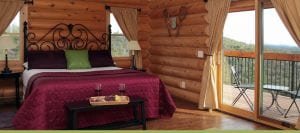 After your time at the Angels Camp Theatres, head back to the comfort of our hilltop bed and breakfast. Here at Courtwood Inn, we offer a collection of rustic accommodations, tennis courts, views of the San Joaquin Valley, a gourmet breakfast spread each morning, a luxurious spa, and available wine tours. Combined, these compose the idyllic Northern California getaway. Browse our rooms, reserve your ideal dates, and feel relaxed when you click "Book Now!" We can't wait to host you and your special someone this year!