Everything You Need to Know About Lavender Ridge Vineyard
When you dream of California, what comes to mind? For us at Courtwood Inn, we think of the cool breezes, the marvelous mountains, and of course, the award-winning wines. One of the most stunning wineries in Calaveras County is Lavender Ridge Vineyard. This family-owned and operated winery provides a unique experience for all who visit. Whether you consider yourself a wine aficionado or wish to indulge in something new, a trip to this establishment will make a great addition to your getaway!
Once you've experienced Lavender Ridge Vineyard, spend some time enjoying the natural allure and peaceful landscape of the breathtaking Sierra Nevada Foothills. By requesting a copy of our complimentary Vacation Guide, you'll receive our top choices for area attractions, wonderful restaurants, and seasonal celebrations in the palm of your hand. We carefully curated this travel planner to helps you immerse yourself in our local culture without the hassle of trying to figure out what to do on your getaway. You'll also find a section dedicated to the best places to stay in Calaveras County and ways to unwind at Courtwood Inn!
How to Spend Your Afternoon at Lavender Ridge Vineyard
One of the best wineries in Murphys, CA, Lavender Ridge Vineyard offers a wonderful selection of blends for all palates to enjoy. Use our local insights to discover how this award-winning winery creates some of the most exquisite wines in Calaveras County.
More About the Winery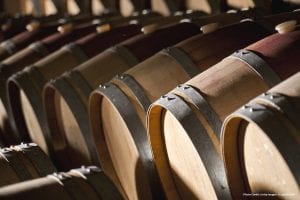 Siri Gilpin and her husband, Rich, began the Lavender Ridge Winery in Murphys, CA, which became a downtown favorite among both locals and visitors alike. In addition to regionally inspired blends, the couple cultivated the vineyard and winery to complement their mutual interest in organic farming and the use of culinary herbs. As a result, lavender became a staple ingredient in winemaking and preparing exceptional cuisine. Before you make the short trip from Courtwood Inn, reserve your ideal time at the Tasting Room!
What to Taste
Lavender Ridge Vineyard features a gorgeous selection of exceptional vino, each of which boasts unique flavors. Whether you indulge in a refreshing white, savory red, or sweet dessert wine, you're sure to find the perfect one to delight in. Enjoy the 2016 Grenache Rose, which is a blend boasting citrus-like notes, fruity flavor, and brilliant red color. If you wish to try a rich Bordeaux varietal, stop by Coppermine, the sister winery!
Where to Try
The Tasting Room in downtown Murphys, CA, is open daily and makes for a delightful afternoon of sipping, socializing, and savoring wonderful wines with local patrons and visitors. During your time, you'll learn about the distinctions between the Rhone-varietal wine as well as how to pair each wine with cheese.
Perhaps one of the most defining characteristics of Lavender Ridge Vineyard is the resident cheesemonger. This culinary connoisseur provides insights into which artisan cheese pairs the best with each wine produced and offered for sampling. While you're tasting, ask Judy Creighton her advice on pairing the cheeses and maybe try to pair something together yourself. Once you've tried a variety of combinations, peruse the on-site cheese market to explore other varieties!
Join the Club
After you've found your favorite wine at Lavender Ridge Vineyard, consider joining the exclusive Wine Club. With your commitment, you'll receive up to 25% off of wine purchases, complimentary tastings, winery tours, discounts on cheeses, and exclusive pricing for events, as well as special offers at Coppermine Winery. Whichever way you choose to enjoy this membership, this loyalty system remains one of the best ways to stay connected with one of our favorite wineries in Murphys, CA!
Courtwood Inn Is Your Wine Country Destination!
Calaveras County showcases of the most wonderful boutique wine lover's destinations. Each of these stunning wineries provides the perfect pairing of pressed-to-perfection grapes, an inviting atmosphere, and true wine country charm. If you wish to indulge in one or more of these wonderful vineyards and everything they have to offer, let us at Courtwood Inn help. We offer the Courtwood Wine Tours and specialize in getting you to and from your tastings safely! On our route, we stop by many beloved establishments such as Lavender Ridge Vineyard, Coppermine Winery, Newsome Harlow Winery, and Milliaire Winery, just to name a few. Sit back, enjoy the unparalleled views of the rolling foothills, delight in the temperate-controlled environment, and relax on your day of becoming a wine aficionado!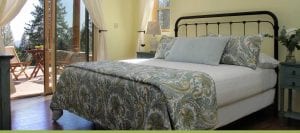 Once you've experienced our wine country, unwind in the rustic comfort of our relaxing bed and breakfast. Each of our log-cabin guest rooms features tennis-themed decor, spacious bathrooms, and an abundance of natural light. Whether you wish to spend your time curled up in a comfortable bed or on a private balcony, you're sure to feel closer to your special someone this year. With an assortment of artfully crafted blends and cozy accommodations awaiting your arrival, why wait any longer to plan your getaway? We look forward to being your taxi service to the wineries as well as your preferred bed and breakfast this year!
Your next getaway to California awaits with Courtwood Inn!