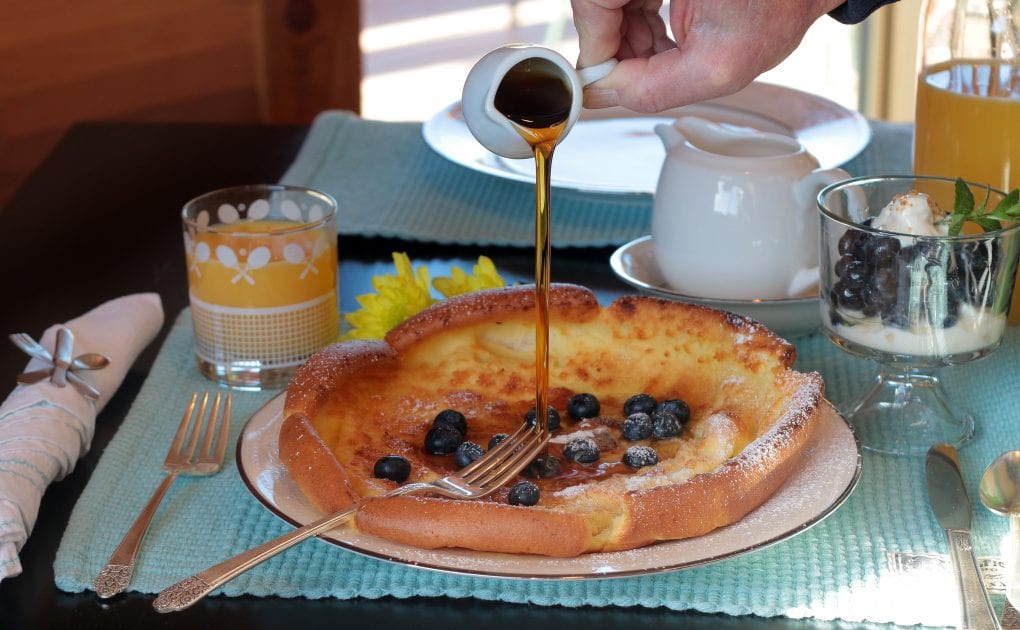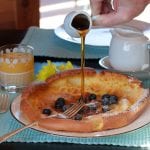 Print
Courtwood Inn's Dutch Babies
Notes
It is a family favorite and can easily be adapted for a Gluten-free diet, modified from a Sunset Magazine recipe.
We use Lodge cast iron pans size  6SK (They are now only available on Amazon).  Stores have the larger or smaller size pans readily available.
Preheat oven to 425 degrees
Ingredients:  For 2 large pancakes
1/3 cup of butter 
4 eggs (room temperature)
1 cup of flour (we use organic unbleached) (GF use Rob's Red Mill 1 to 1 flour)
1 cup of milk
Divide the butter in the 2 well seasoned pans  (for consistent rise spray the pan edges with Canola spray)
In a blender mix the eggs, milk and flour right before pouring into the pans. (Blend while the pans are in the oven warming up and melting the butter.) When the pans are ready divide the batter in the two heated pans and bake for 15 minutes.
We serve them with fresh fruit and dusted with powdered sugar but you can use jam, fruit syrup or cooked fruit sauce.  We also serve with real maple syrup on the side.                   (Everything in ( ) is our secret sauce)
Enjoy and remember our motto: Don't stop eating your pancake or you will get full.