Everything You Need to Know About Ironstone Vineyards Events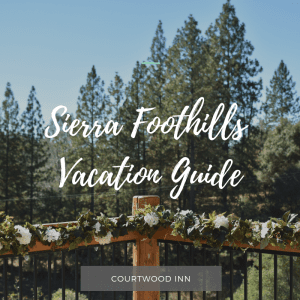 With over 12 family owned and operated wineries in our gold rush town, exceptional wine and vineyards await around every corner. One of the best wineries in the area is Ironstone Vineyards in Murphys, CA. While the wine it produces is incredible, wine is not all that the vineyards offer. In addition to everything the winery offers year-round, there are exciting events at Ironstone Vineyards which offer experiences in themselves. Below, you'll discover some of the biggest annual Ironstone Vineyards events that you won't want to miss!
Download Our Free Vacation Guide!
About Ironstone Vineyards
Ironstone Vineyards is not your typical vineyard. Sure, you will find stunning views of orchards where wine grapes slowly ripen in the warm sunshine. And yes, there is a beautiful tasting room where you can sample top-notch wine or take a tour. However, Ironstone Vineyards is so much more than just a winery.
You could spend an entire day exploring the lovely grounds of Ironstone Vineyards. Learn about the California Gold Rush at the Heritage Museum, where you can see Ironstone Winery's infamous gold nugget—the world's largest piece of crystalline gold. Stroll through the lush gardens. From the gorgeous Music Room to the spectacular Wine Caverns, the unique features of Ironstone Vineyards will create an experience not quite like any other. There's even a Jewelry Shoppe and a Deli!
On top of these stellar attractions, Ironstone Vineyards hosts several events throughout the year. Many of them take place in the unique areas throughout the vineyards, making for stunning backdrops to these exciting events.
Ironstone Vineyards Events
Ironstone Vineyards is perfectly positioned to play host to all kinds of different events. From enjoying music in the open air Ironstone Amphitheatre to picturesque holiday brunches, there's always something happening. Check out some of the most popular annual events below!
Spring Obsession Art Show | March
Celebrate the annual release of Obsession Wines during the Spring Obsession Art Show.
Spring Daffodil Show | March
Marvel at spectacular displays of daffodils and horticulture on the grounds of Ironstone Vineyards.
Easter Brunch & Egg Hunt | April
Join in the family-friendly Easter brunch followed by a fun egg hunt.
Mother's Day Brunch | May
Cost of tickets are all-inclusive; sip champagne, mimosas, and Obsession wine and enjoy breakfast while taking in the views at Ironstone Vineyards.
Independence Day Celebration | July
Gather with family and friends in this lively celebration, complete with fireworks, craft vendors, food and libations, and all kinds of entertainment.
Ironstone Vineyards Concert Series | Summer
Enjoy outdoor concerts performed by top stars during the 2019 Ironstone Vineyards Concert Series!
Concours d'Elegance | September
Classic and antique cars fill the lovely grounds of Ironstone Vineyards for this iconic event.
Independence Hall Quilters Faire | October
Colorful quilts, wall hangings, needle art, and other beautiful crafts will be on display at the long-running Independence Hall Quilters Faire.
The Ironstone Amphitheatre
The Ironstone Amphitheatre provides a memorable venue with an experience you won't discover anywhere else. There's a reason why this venue is such a popular destination for summer concerts in Murphys!
The Venue
The venue is laid out well and despite the size imparts an intimate, relaxed feel—something you don't always get with big-name concerts. And the Ironstone Amphitheatre certainly sees its share of big acts!
Part of the reason why the venue's atmosphere is so unique is its surroundings. Since it's part of Ironstone Vineyards, the amphitheatre is flanked by leafy green trees, colorful flowers, and paved pathways ideal for a stroll.
Bring a towel or beach chair, grab a glass of wine, and relax under the stars on the lawn as you enjoy a fantastic performance. Enjoy the breeze and have fun with your friends or family. You'll notice the difference between a typical venue and Ironstone Amphitheatre.
The Details
While the show is the main act, there are several other details that make or break your experience at a venue. Ironstone Amphitheatre has a lot to offer in the way of food and drinks for when you get hungry or thirsty. There's even a buffet! Their facilities are also very well maintained, and you can expect quality service. Get there early to enjoy the other aspects of Ironstone Vineyards. It's a pleasant experience, and they make fantastic wine.
The seating is well-designed—there's a variety of options to choose from, there isn't a bad seat in the house, and the view is good even if you are in the lawn section. Ironstone Amphitheatre also has great acoustics. Couple this with the giant video screen, and you can be sure that you'll be able to fully enjoy the show, even if you aren't in the sections closer to the stage. 
While the Ironstone Amphitheatre sees several big acts during its popular Summer Concert Series, there are other fantastic events that take place here, including the Concours d'Elegance, annual Independence Day Celebration, and more!
Are you planning to attend an upcoming concert? Avoid the hassle of parking and let us take care of transportation for you with our Ironstone Concert Package! If you stay with us for two nights on a weekend or one night mid-week, you'll receive round-trip transportation to the concert, plus a special dessert when you return to the inn following the concert! Be sure to book direct for the best rates and to see true availability.
Unwind at Courtwood Inn
After your tour of the spectacular Ironstone Vineyards in Murphys, CA, relax in your luxurious guest room at Courtwood Inn. Our lovely cedar lodge offers some of the finest accommodations in the Sierra Foothills, and our vantage point allows for some of the finest views. Browse all our stunning accommodations and book your stay today!