Here Is the Best Place to Stay in Murphys, CA
With its award-winning wineries, outstanding scenery, and charming historic downtown, it's no surprise that Murphys, California, is known as "One of the Top Ten Small Towns in America." If you're searching for the best place to stay in Murphys, CA, look no further than Courtwood Inn in Calaveras County.  
Courtwood Inn's central location keeps you close to the town of Murphys' best activities. From wine tastings to delectable dining to unique shopping, our town has it all. Download our complimentary Vacation Guide for local insight on the area's best attractions.  
Courtwood
 Inn Is the 
Best Place 
To
 Stay in 
Murphys
, 
CA
When you stay with us at Courtwood Inn, you're in for the vacation of a lifetime. Our family-owned bed and breakfast features luxurious accommodations and outstanding amenities paired with top-notch customer service.  
 
Following the inn's tennis theme, our guest rooms are named for the world–famous major professional tennis competitions—Australian Open, Davis Cup, French Open, US Open, and Wimbledon. From antique rackets to dazzling trophies to competition colors, each room has its own unique flair.  
Providing our guests with the feelings of luxury and comfort is our priority. Each guest room/suite features a private bath, plush bedding, and breathtaking views of the San Joaquin Valley from a private deck, patio, or balcony.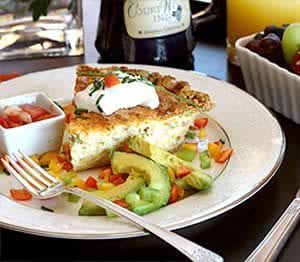 Here at Courtwood Inn, you'll have access to all the amenities you'd find at a hotel, with extra features to make you feel at home. Our guests have access to an electric car charging station, free Wi-Fi, and an all-day beverage bar (Keurig coffee, tea, hot chocolate, homemade snacks, etc.).  
Perhaps our best amenity offered here at the inn is our delicious breakfast offered daily. The multi-course breakfast begins with fresh-brewed, locally-roasted coffee that's made exclusively for us by Gold Country Roasters. We offer a selection of seasonal fruit and homemade muffins and scones. For the main entrée, we offer a choice of a sweet or savory dish. If your day requires an early start, we'd be happy to prepare a to-go breakfast for your excursion! 
We want you to make the most out of your getaway in Murphys. We're happy to offer our guests a full list of vacation packages. From tennis packages to massage packages to wine tasting tours—we've got it all!  
The most popular package that we offer at the inn is our award-winning Courtwood Wine Tasting Tour. Our knowledgeable tour guide will drive you to some of the best wineries in the county, where you'll learn about the wine-making process and taste delicious varietals. The package includes a 10% savings on your tour and a complimentary wine and cheese hour upon your return at Courtwood Inn. We'll even transport you to and from dinner at a restaurant in downtown Murphys! 
Book Your Stay at 
Courtwood
 Inn
It's always the best time to treat yourself to an escape to picturesque Murphys. We'd love to host you here at Courtwood Inn. Our bed and breakfast is a spectacular cedar log lodge that sits upon a tranquil hilltop overlooking California Gold Country. You won't find a better place to "play, relax, and refresh." 
Check our availability and book your stay with us today. We can't wait to have you!