The Best Hidden Gems to Find in Calaveras County
Calaveras County is home to a plethora of fine dining restaurants, unique shops, beautiful art galleries, and award-winning wine tasting rooms. Sometimes, you want to skip the five-star tourist-friendly gallery and find the hole-in-the-wall art exhibit that speaks to your soul. We have gathered the best hidden gems in Calaveras County ranging from eye-opening artwork to handcrafted candles. 
To learn about the best places to visit, download our free Murphys Travel Guide. It contains local insight into the best things to see and do in the area! 
Fun Hidden Gems in Calaveras County
Art on Main
Art on Main is a contemporary fine art gallery that hosts a collection of local artists' artwork. Open five days a week, Art on Main's foothill location gives it a feeling of seclusion and intrigue you will be hard-pressed to find elsewhere.
Marisolio Tasting Bar
The Marisolio Tasting Bar can be found on Main Street across from the historic Murphys Hotel. Known for its award-winning Extra Virgin Olive Oils, whole fruit, and herb fused olive oils, you can try whatever strikes your fancy at the bar! Not all olive oils are made equal and Marisolio is the perfect place to find out why.
Quyle Kilns
Over six thousand pieces of handmade pottery are sold every year in the Quyle Kilns showrooms. While they no longer manufacture clay to sell, Quyle Kilns is a must-stop for all pottery fans in your household. Interested in learning how to make your own pottery? Take a wheel throwing class to learn how to craft your own works of art!
The Spice Tin
The Spice Tin is a retail store that is home to a wide range of gourmet spices, salts, seasons, and sauces from cultures all around the globe. Not just a store, The Spice Tin is a place for folks in the community to gather, play music, sing songs, and meet friendly new faces.
Moon Alley
Candles make for the best gifts, and Moon Alley's handcrafted candles are true works of art. When you light a Moon Alley candle, you are transported to a new world filled with beautiful sights, smells, and emotions. Store hours are limited so check their website ahead of time before you plan a visit.
Books on Main
A boutique bookstore on main street, Books on Main maintains a wide variety of books for everyone's tastes, budget, and passions. If you are looking for your next great adventure on paper, check out Books on Main for the perfect recommendation while you are in Calaveras County.
Fun Annual Events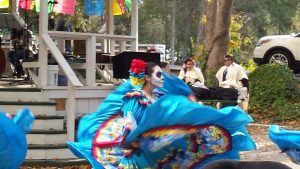 Day of the Dead – Celebrate Dia de Los Muertos (Day of the Dead) in a local celebration the whole family will love. Calaveras County gets its name from the Spanish word for skull which are a prominent part of the festivities.
Stay at Our Luxurious Log Cabin—Courtwood Inn
Are you looking for the perfect hidden gem in Calaveras County? Look no further than our beautiful bed and breakfast—Courtwood Inn. We offer an array of pristine accommodations, each paired with superior customer service and top-notch amenities. We serve homemade breakfast each day, in addition to wine and cheese hours in the evenings. You'll feel completely at peace as you sit on our spacious deck and gaze at the mountains while sipping on your morning coffee or evening glass of wine. Plus, we're conveniently located close to all the hidden gems listed in this blog!