Eco-Friendly Travel in Calaveras County 101: Everything You Need To Know
In today's world, more and more vacationers value the importance of sustainable travel. No matter how big or small the green initiatives are that we make, every little bit helps! Are you planning a getaway and want to do your part to participate in eco-friendly travel in Calaveras County? Stay with us at Courtwood Inn! We're doing the best we can at our charming log cabin to help the environment. Plus, our area is filled with exciting eco-friendly activities! 
When you're ready to start planning your trip, get the inside scoop on the best things to do in our town with our Free Vacation Guide! This free resource contains local insight into the best and greenest things to do during your trip to our area. 
Free Calaveras County Vacation Guide 
All About 
Eco-Friendly Travel in Calaveras County
Green Initiatives at Courtwood Inn
Do you want to go green during your next getaway? Read on to discover how Courtwood Inn is doing our part in eco-friendly travel in Calaveras County.  
Thoughtful Construction  
Courtwood Inn was built as an eco-friendly bed and breakfast with energy-efficient windows, optimal overhangs for passive solar heating, light-reflecting roofing, low VOC paints, and ultra-efficient heating and cooling. Plus, our log cabin walls are inherently good insulators. In addition to landscaping with drought-resistant plants, water from our on-site well is used for the fruit trees, herbs, edible plants, and vegetables in our garden and is filtered for personal use. 
Electric Car Charging Stations 
Electric cars are becoming more and more common these days! Whether you're the proud owner of one or you're renting one during your stay in Murphys, we've got you covered with electric car charging stations. They're entirely free for our guests to use! Charge your vehicle while you sleep, and you and your car will wake up recharged and ready to go.  
An Onsite Garden 
Our guests travel from near and far to stay with us and enjoy delicious homemade breakfasts each morning. In order to ensure that we use the freshest organic products possible, we've planted a garden here on our expansive property. We're able to harvest fruits, herbs, and vegetables for all sorts of yummy dishes. One of our favorite treats to make is homemade apple pie with our freshly-picked apples! 
How You Can Practice Eco-friendly Travel in Calaveras County
Do you want to do your part to help the environment while you're on vacation? We've got some fantastic suggestions! 
Explore the Great Outdoors 
The simplest way to practice eco-friendly travel in Calaveras County is to support ecotourism. With towering trees, expansive lakes, and picturesque mountains, there are a lot of options when it comes to ecotourism in our area.   
Support Small Businesses 
One lesser-known way to promote an area's sustainability is by supporting small businesses throughout Calaveras County! Take your dollars to local restaurants, bars, and shops to keep the doors of small businesses open. These hidden gems are the essence of Murphy's enchanting charm. Our area wouldn't be the one-of-a-kind oasis it is today without local business owners! It's also the best way to taste authentic, local flavors and purchase Murphys-made gifts!  
Stay at Our Luxurious Log Cabin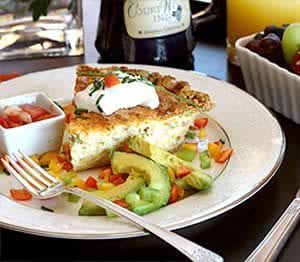 Are you looking for the perfect place to stay in Calaveras County? Look no further than our beautiful bed and breakfast—Courtwood Inn. We offer an array of pristine accommodations, each paired with superior customer service, top-notch amenities, and lots of eco-friendly initiatives. We serve homemade breakfast each day, in addition to wine and cheese hours in the evenings. You'll feel completely at peace as you sit on our spacious deck and gaze at the mountains while you sip your morning coffee or evening glass of wine. Plus, we're conveniently located close to all the best outdoor activities and locally-owned businesses listed in this blog! 
Check our availability and book your stay with us today. We can't wait to host you!