Do You Want To Know Where You Can Watch the Best Sunsets in Murphys, CA?
When you take a trip to the California Gold Country, you'll be surrounded by breathtaking scenery everywhere you turn. Have you ever had the pleasure of staying in the charming town of Murphys in Calaveras County? With award-winning wineries and tasting rooms, a lovely downtown area, and many natural areas, a getaway here can't be beat! If you want to embrace the beauty of this town, check out our favorites spots to watch the best sunsets in Murphys, CA.  
Nestled among the Sierra Foothills, Murphys is a place unlike any other. Download our complimentary Vacation Guide to learn about the area's best restaurants, events, outdoor activities, state parks, and more! 
Where to Watch the 
Best Sunsets in Murphys, CA
If you're embarking on a romantic getaway, want to capture outstanding photography, or want to reconnect with Mother Nature, you'll love these places where you can experience the best sunsets in Murphys, CA.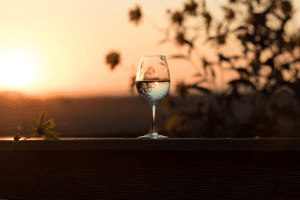 Ironstone Vineyards is the biggest wine producer in the California Gold Rush wine region. As the top tourist destination in Murphys, it draws guests from near and far all year long. Ironstone is known for its wine tastings, live music, and gorgeous landscaped gardens. When you visit the winery, you'll be surrounded by vast vineyards Northern California landscapes. You'll feel like you're living a life of luxury as you sip on your glass of wine and watch the sunset over the vines.  
New Melones Reservoir is located between the two historic mining towns of Sonora and Angel Camp. The reservoir has a capacity of 2.4 million acre feet of water and features 100 miles of coastline. There are several recreation and campground areas surrounding the reservoir with features like walking/hiking trails, beach areas and boat launch ramps. Located near the reservoir on highway 49, you can also learn about the area's history at their year-round visitor center & museum. Surrounded by mountains, local wildlife and water this location is picturesque to watch the sunset.
When you explore Calaveras Big Trees State Park, you'll find an astounding number of Giant sequoias. There are lots of top-notch hiking trails throughout the park that are dying to be explored. Some of our favorite trailheads include Dardanelles Overlook, Moran Road, and Lava Bluffs Trail. Many scenic overlooks behold sweeping views of the mountains and picture-perfect sunsets.  
Arnold Rim Trail is one of the most popular self-guided excursions in the area, featuring spectacular hiking, sightseeing, and biking opportunities. If you're searching for the best sunset views, the Arnold Rim Trail Top of the World is the hike for you! When you reach the lookout at the end of the trail, you'll be delighted by the panoramic views of Mt. Diablo, dramatic canyons, and the Yosemite Wilderness. 
Stay at the Beautiful Courtwood Inn
When you're searching for the best lodging in Murphys, Courtwood Inn is the number one choice. Our charming bed and breakfast is a cedar log cabin set upon a tranquil five-acre hilltop. All our accommodations have everything you need to feel at home and feature top-notch amenities. And each junior suite has either a private patio or balcony that offers beautiful views. From our communal deck here at Courtwood Inn, you'll see the sunset over the trees creating magical sky views.