You Need to Experience These Northern California Waterfalls
Throughout our state, you'll find hundreds of gorgeous waterfalls from Yosemite all the way to the Oregon border. Many of these natural wonders are located close to Courtwood Inn. Keep reading to learn about Northern California waterfalls that you can explore during your next trip to Calaveras County.  
If you're curious about other outdoor activities and attractions throughout the area, download our complimentary Vacation Guide. It contains local insight on all the best things to see and do! 
Let's Go Chasing 
Northern California Waterfalls
Read on to learn where you can find these gorgeous Northern California waterfalls! 
1. Stanislaus
National 
Forest
Embark on a trip through Stanislaus National Forest and follow the Arnold Rim Trail. As you follow the path, you'll find San Antonio Falls Overlook and a trickling stream with falls above. Dip down into the canyon towards the bank of the stream and look up. You'll be amazed as you watch the cascading water flow over the granite mountains.  
Make the most out of your trip to the National Forest and enjoy some other fun-filled outdoor activities. The park is a fantastic location for kayaking, horseback riding, fishing, and more!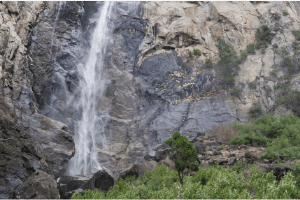 2. Yosemite Falls
Take a drive to the one and only Yosemite National Park to find waterfalls unlike anything you've ever seen before. The tallest waterfall in the park is Yosemite Falls. The upper falls drop over 2500 feet into the lower fall. Wow! November is an excellent time to check out the falls after the late–season storms.  
3. Bridalveil Falls
Yosemite is also home to Bridalveil Fall. People travel from near and far year-round to gaze at this natural beauty. The falls reach about 620 feet high and are one of the first visible waterfalls upon entering the park, making it easily accessible for people of all ages. It's an easy hike that anyone can master! 
Retreat at 
Courtwood
 Inn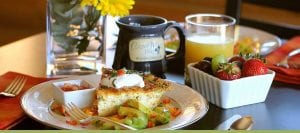 After a magical day spent chasing waterfalls, retreat to our luxurious bed and breakfast and rest your head in a cozy guest room. Courtwood Inn is set on a tranquil 5-acre hilltop overlooking the Sierra Nevadas. Our beautifully decorated guest rooms and suites feature relaxing spa tubs, private balconies or patios, fine linens, and more.  
After a peaceful sleep, awake refreshed and enjoy a delicious, home-cooked meal. Our multi-course breakfast begins with the wonderful aroma of fresh brewed, locally roasted coffee made especially for us by Gold Country Roasters. We offer seasonal fruit, either a sweet or savory breakfast entrée, and homemade muffins or scones. If your day requires an early start, we can provide breakfast to go for your excursion! 
Start getting excited about an amazing trip to Northern California. Check our availability and reserve your room today!