What Are the Best Coffee Shops in Murphys, CA, Right Now?
What in the world would we do without coffee? Whether you want to get energized before your day exploring Calaveras County, or you want to warm up after a day spent in the great outdoors, you deserve a delicious, handcrafted coffee beverage. Luckily for you, our area is home to a collection of top-notch cafés, coffee shops, and charming eateries. Discover some of our favorite coffee shops in Murphys, CA, below!  
No matter what time of year you visit Murphys, endless adventures are waiting to be had! Check out our Free Vacation Guide and start making your Calaveras County bucket list today. 
Download Our Free Sierra Foothills Vacation Guide 
Grab a Cup of Joe at These 
Coffee Shops in Murphys, CA
What's your go-to pick-me-up beverage? Whether you prefer hot coffee, iced lattes, herbal tea, or a blended treat, we've got you covered with these coffee shops in Murphys, CA!  
Address: 78 Scott St, Murphys, CA 95247 
Only a 7-minute drive from Courtwood Inn.  
Gold Country Roasters is a cozy, local hangout serving house-roasted coffee, fruit smoothies, and locally made pastries. The roasters carefully hand-roast all their coffees on-site in small batches, with close attention to detail and quality. You can truly taste the passion in each cup of coffee! 
Be sure to try their Café au lait and Murphys Blend Coffee.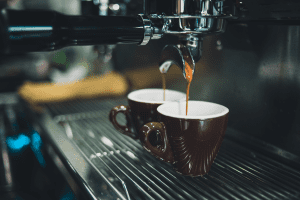 Address: 402 Main St, Murphys, CA 95247 
Only a 6-minute drive from Courtwood Inn. 
When you visit Grounds, you'll feel at home. This unique nook is located on Main Street in downtown Murphys and offers breakfast, lunch, dinner, alcoholic beverages, and café beverages. Grounds began as a coffee, pastry, and sandwich shop and was one of the first places to move into the old Murphys downtown district. Over time, the community kept asking for more and more, so their menu expanded to what it is today.  
Be sure to try their Fresh Tomato and Basil Scrambled Eggs and delicious coffee concoctions.  
Address: 458 Main St B, Murphys, CA 95247 
Only a 5-minute drive from Courtwood Inn.  
Aria is a family-owned bakery with a delicious variety of pastries, sandwiches, soup, espresso drinks, and more. They're conveniently located in downtown Murphys and offer new and exciting menu items throughout the year.  
Be sure to try their Hot Chocolate and Focaccia Paninis.  
Address: 1257 S Main St, Angels Camp, CA 95222 
Only a 13-minute drive from Courtwood Inn.  
Are you spending the day exploring Angels Camp? Be sure to visit Lemon Tree Bakery Coffee Shop! This hometown bakery serves classic scones, quickbreads, lemon bars, rolls, bagels, granola, and cookies made from scratch. They are also a traditional coffee house focusing on a quality cup of coffee, proudly serving coffee from the best local coffee roasters.  
Be sure to try their Old Fashioned Lemon Bars and handcrafted lattes. 
Stay With Us at Courtwood Inn
We know that when you're planning a vacation, the options for accommodations can be overwhelming. Make the easy choice and stay with us at Courtwood Inn! We offer spacious lodging options that will make you feel at home in no time. Plus, we offer an array of five-star amenities for our guests' comfort, including pet-friendly options, homemade breakfast, luxury linens, picturesque views, and more. Plus, we're conveniently located near the heart of Murphys, keeping you close to all the best restaurants, wineries, boutiques, and more!