You Need to Go Stargazing in Northern California
If you're searching for a beautiful, serene getaway from the city, escape to Calaveras County. This area is a popular destination for outdoor recreation, wine tasting, shopping, dining, and more. It's also an amazing destination for stargazing. Stargazing in Northern California is ideal because of the high elevation and distance from large cities. This reduces the amount of light pollution and atmospheric interference, giving you fantastic views of dark skies. 
If you're traveling to Northern California, rest your head in the unique town of Murphys at the Courtwood Inn. You'll be close to all of the best stargazing spots. Plan your astronomical adventure and check out the locations listed below. Then, use our free Vacation Guide to save time planning other activities and attractions to explore during your trip! 
The Best Spots for Stargazing in Northern California
New Melones Lake
A 20-minute drive from Courtwood Inn. 
New Melones Lake is the third-largest reservoir in California. It offers a multitude of outdoor recreation options, including fishing, hiking, boating, wildlife viewing, and stargazing. The lake is open to boaters 24 hours a day, so you can bob on the water and enjoy views of the starlit night sky all night long. New Melones Lake also hosts an annual event that is the highlight of the year for stargazers: the Perseid Meteor Shower. The shower occurs every year and peaks in August. You'll be in awe as you watch the sky put on a wonderous, natural light show. 
Calaveras Big Trees State Park 
A 30-minute drive from Courtwood Inn.
This park is one of the best places for stargazing in Northern California. Calaveras Big Trees State Park is nestled within the Sierra Nevada Mountains and is home to some of the first Giant Sequoias discovered in the state. Don't worry — the towering trees won't stop you from getting prime views of the stars. The scenic overlook in the park is one of the top locations to stargaze. A volunteer stargazing group hosts monthly Astronomy Nights here. They provide telescopes and astronomical binoculars to give you a closer look. 
Yosemite National Park 
An hour and 40 minutes from Courtwood Inn. 
Yosemite National Park covers over 700,000 acres and is one of the best places to see the Milky Way in California. Its expansive acreage and remote location provide some of the darkest night skies in the country, making it ideal for stargazing. Throughout the year, astronomy clubs host Star Parties at Glacier Point in the park. They set up telescopes for you to use and offer astronomy walks and talks. Make sure to visit when there is not a full moon, as it will drown out the stars' visibility. 
Courtwood Inn
Our rustic, yet elegant, cedar log lodge sits upon a five-acre hilltop and is home to gorgeous views of the Sierra Foothills and vast, unobstructed skies. Grab a glass of local wine, breathe in the fresh mountain air, and gaze at the stars on the Courtwood Inn's deck. We have binoculars and telescopes available to view the sky's twinkly lights. You might even get to see planets! 
Stay in an Authentic Log Cabin
Courtwood Inn is unique and special. The warmth and ambiance of the cedar logs bring about a feeling of comfort and relaxation.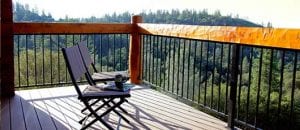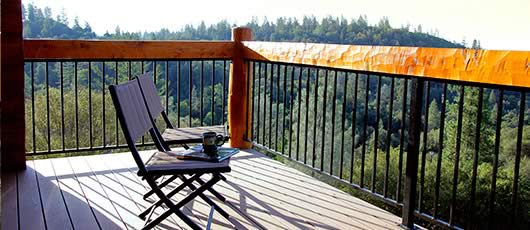 We're the ultimate place to stay when you're stargazing in Northern California.
Stay in our Wimbledon Mini-Suite and gaze at the stars and Sierra Foothills from your private balcony. Other highlights of this room are the high vaulted ceilings and the spacious seating area, where you can enjoy morning coffee or a glass of wine in the evening. What are you waiting for? Check our availability and start planning your getaway to Calaveras County today!