Here Are the Best Upcoming Events in Murphys, CA
Murphys is an exciting travel destination with excellent restaurants, art galleries, live music, wine tasting rooms, and numerous annual events. If you're curious about what the current upcoming events in Murphys, CA, are, keeping reading. 
During your travels to Murphys, stay with us at Courtwood Inn. Our pristine bed and breakfast is located in the heart of California Gold Country and is only a 5-minute drive from the adventure of Main Street. We're constantly offering new specials and discounts to our valued customers, so be sure to check them out before booking. Also, be sure to take a look at our complimentary Vacation Guide. It has insider information on the area's best things to see and do. 
Upcoming Events in Murphys, CA
El Dia de Los Muertos
One of the most interesting upcoming events in Murphys, CA, is El Dia de Los Muertos, or Day of the Dead. You can join in on the festivities at Murphys Community Park each year on the first Saturday of November. As you experience this cultural showcase, you'll be captivated by the lively celebrations. Attractions include dance lessons, authentic art exhibits, delicious Mexican food, face painting, and Mariachi bands. 
Murphys Christmas Parade
The Murphys Christmas Parade takes over Main Street each year on the first Friday of December. The fun-filled parade flows down the streets and showcases festive floats, musicians, and carolers. You'll want to be sure to stop by the Spice Tin and try a real-life chestnut roasted on an open fire! This event is the perfect time to peruse the town's boutiques, eateries, and heated wine tasting rooms.
Wine Tour in Murphys
Would you like to dive into the world of wine tastings with a Courtwood Tasting Tour Package? We've got you covered! Combine a stay at Courtwood Inn with an award-winning Courtwood Wine Tasting Tour. Not only is there a 10% savings on your tour, after returning to the inn for our afternoon Happy Hour, but we will also drive you to Murphys for dinner and pick you up afterward.
Winery of the Month: Boyle MacDonald
This month, we're featuring one of our favorite wineries, Boyle MacDonald Wines! This tasting room located on Main Street in downtown Murphys and sits on the second floor of the Sierra Nevada Adventure Company. The Boyle MacDonald tasting room is open on Thursday through Sunday. Their tasting room's spacious and comfortable atmosphere is also the perfect place to relax and enjoy a glass of wine or share a bottle with friends. If you're a lover of Dry Rosé, you're in luck—they have two! 
Upcoming Events at Courtwood Inn
Holiday Gift Certificate Sale
Are you tired of giving your loved ones the same boring gifts every year? Ditch the lame sweater and pair of socks and give the best gift of all— travel! Courtwood Inn is currently offering a fantastic gift certificate sale. When you buy $300 or more in gift certificate sales, you will receive a FREE tennis lesson from Larry Parker, our very own innkeeper, and award-winning USPTA tennis professional. This special offer has flexibility as you can choose to keep the tennis lesson for yourself, or gift it to someone else! 
Winner Sale for Return Guests
We appreciate and cherish all of our guests here at Courtwood Inn. We can't wait to have you back! As a special treat, we will be offering return guests our Winner Sale. When you book one night, you will get another night FREE! You must book dates January through April 2020, and begin booking anytime in November 2019. 
"Play, Relax, and Refresh"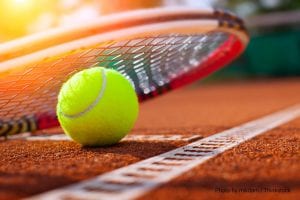 Did you know that the innkeepers at Courtwood Inn, Chris and Larry Parker, are both award-winning USPTA tennis professionals? They've chosen to name their beloved bed and breakfast Courtwood to connect their love and tennis with their gorgeous log cabin home. Each guest room at the inn is decorated and inspired by tennis players and tennis championships around the world. 
Courtwood Inn offers an array of tennis packages for you to enjoy during your stay. Packages include reserved court play, round-robin play, tennis lessons from professional Larry Parker, group packages, and more! 
Treat Yourself With Us
Courtwood Inn is serving up delicious food and drink for our guests every day. 
Our multi-course breakfast begins with the enchanting aroma of fresh-brewed, locally roasted coffee made especially for us by Gold Country Roasters. Enjoy a selection of seasonal fruit, then be treated to either a sweet or savory breakfast entrée, along with homemade muffins or scones. If your day requires an early start, we can provide breakfast-to-go for your excursion. With advance notice, we are happy to accommodate special requests for those with food allergies or dietary restrictions.
Also, every night, we provide a complimentary Happy Hour. We pour local wines and serve them with artisanal cheeses, crackers, fruit, and munchies. This is the ideal way to end your day, begin your evening, or get to meet other travelers and share stories of your time here at Courtwood Inn. 
Stay in the Heart of It All at Courtwood Inn
Now that you're excited about all of the upcoming events in Murphys, CA, it's time to start planning your vacation! Courtwood Inn makes the perfect home away from home. We even have pet-friendly accommodations! 
Whether they have two legs or four, the comfort of our guests is our number one priority. Your furry family member is welcome to stay with you in our dog-friendly Davis Cup Mini-Suite (by prior arrangement only). Its ground-level entrance is convenient for potty breaks. Or, we have an array of other high-quality rooms and suites for you too chose from as well. It's time to start planning your Murphys getaway! Check our availability and reserve the right space for you.