Here Is The Best Valentine's Day Getaway Itinerary in the Sierra Foothills
What's more romantic than whisking your sweetheart away to a gorgeous retreat nestled in the Sierra Foothills? Spend quality time together while enjoying a serene vacation at Northern California's best-kept secret—Courtwood Inn! Take a peek into what your experience could be like with this Valentine's Day getaway itinerary!
Your Perfect Valentine's Getaway Itinerary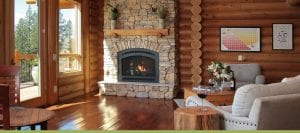 What comes to mind when you think of a romantic getaway? Wine and roses, chocolates, or perhaps massages? An elegant dinner in an intimate restaurant? With Courtwood Inn's all-inclusive Valentine's Day package, you'll enjoy all of these luxuries and more.
Day 1:
Arrive and toast each other (and your getaway!) with some refreshing sparkling wine. Head to either the elegant Wimbledon room or the beautiful and airy French Open to get settled, where you'll find lovely roses and handmade chocolates waiting for you.
Day 2: Morning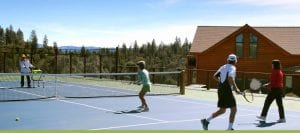 Wake up completely refreshed after a night of sleeping in a luxurious bed and head to the dining room to savor a delicious gourmet breakfast. Take in the spectacular views as you sip fresh, local coffee and enjoy a sweet or savory breakfast entree complemented by seasonal fruit and homemade muffins or scones.
Then, choose whether you are up for a morning filled with fun games of tennis or want to discover the romantic things to do in the area.
Our courts will have time reserved just for you, and we will provide you with a can of tennis balls. Put on your keepsake tennis T-shirts, and head outside to warm up and continue enjoying the breathtaking views. Also included in our Valentine's Day package is an hour-long mixed double lesson with Larry Parker, so you can improve your game while enjoying your getaway!
Day 2: Afternoon and Evening
Unwind after your time on the courts with relaxing back-to-back, one-hour massages in our tranquil Game, Set, Massage room. Feel all your stress melt away as our talented massage therapists work their magic!
After you've been thoroughly pampered, head out to enjoy some of the romantic things to do in Murphys! If one or both of you are the adventurous type, the surrounding area is brimming with scenic hikes and mysterious caves to explore. If you'd rather take it easy, Main Street in downtown Murphys offers several charming shops, art galleries, and tasting rooms. Take a break from walking and stop for lunch in one of the excellent restaurants.
Return to Courtwood Inn to enjoy an afternoon wine and cheese reception as your appetite builds for a romantic dinner at Murphys Grille. Our package includes a $100 gift certificate for dinner, plus a bottle of local wine to complement your meal.
After dinner, head back to our beautiful inn and spend the rest of your evening relaxing, whether it's with a glass of wine on your private balcony or in the luxurious Jason Microsilk tub in your private bathroom.
Day 3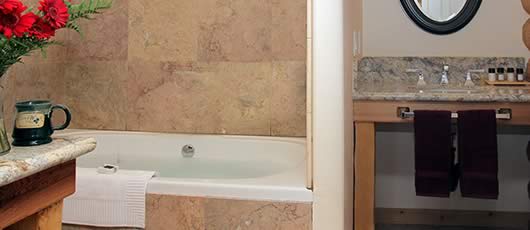 Start your day off right by enjoying another incredible breakfast. Soak in as much of the sweeping panorama as you can before check out at 11 a.m., thoroughly rejuvenated and refreshed!
This Valentine's Day getaway itinerary is just a glimpse into what your stay at Courtwood Inn could be like. The total cost of our all-inclusive package is $1525; call us at 209-728-8686 to book your getaway today. Don't wait until the last minute to claim your getaway—your romantic retreat awaits you!