All About the Best Things To Do In Summer in Murphys, CA
It's time to heat things up and start planning your much-anticipated summer vacation! Why not visit the California Gold Country and stay in Murphys? There's plenty of things to see and do, and the weather is gorgeous. What's not to love? Keep reading to learn all about the best things to do in summer in Murphys, CA.  
Our small town has everything you need for a top-notch getaway. Start planning your vacation with the help of our free Vacation Guide. You can find out about the best wine tours, walking tours, food tours, and more!  
Check Out the Best 
Things 
To
 Do 
In
 Summer in Murphys
,
 CA
It's always the best time to visit Murphys! You can't beat the weather during the summer here. Temperatures can drop to 45 degrees and reach 93 degrees, but the temperatures usually stay in the mid-70s—that's perfect weather for enjoying all kinds of activities!  
Outdoor Adventures
With breathtaking scenery everywhere you turn, Calaveras County is known for being a nature lover's dream vacation spot. Whether you want to go hiking, horseback riding, kayaking, or exploring natural caves, we've got you covered here.  
Top 5 Hiking Trails Near Murphys
Arnold Rim Trail – There are several different hikes along the trail that end in lookout points that offer expansive views, most notably the Top of the World Trail. 

Duchess Mine Trail – Keep your eyes peeled for Table Mountain, 

an ancient

 lava flow.

 

Calaveras Big Trees State Park

 – Many fantastic trails are 

located

 throughout the park. The South Grove trail takes you through a grove of giant sequoias.

 

Dragoon Gulch Trail – The area contains several trails with lookouts of 

breathtaking

 views of Sonora and surrounding mountains.

 

Murphys Community Park – Light and easy trails are found at the park

,

 and public restrooms are open year-round. 

 
Top 5 Lakes Near Murphys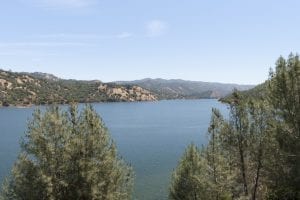 White Pines Lake

 – 

This is a top-notch spot to spend the day and take a picnic with you. You can try fishing, swimming, paddleboarding, kayaking, and more!

 

New Melones Lake

 –

 The lake is known for offering fantastic hiking trails, water skiing, and fishing.

 

New Hogan Lake

 – This lake is part of the Valley Springs tri-lake area and features fishing, mountain biking, and horseback riding. 

 

Natural Bridges – The 

Upper Natural Bridges Trail will lead you to beautiful lookout points and natural swimming holes. 

 

Pardee Lake

– As part of the Valley Springs tri-lake area, Pardee Lake is the only lake in 

Calaveras County

 that does not allow anyone to swim in the water, making for an extra serene fishing experience.

 
Explore Downtown Murphys
One of the best parts about staying with us at Courtwood Inn is that you're located less than 10 minutes away from Main Street in the downtown Murphys historical neighborhood. The area is home to an array of unique art galleries, charming shops, award-winning California wine tasting rooms, and more! 
Top 5 Things To Do In Downtown Murphys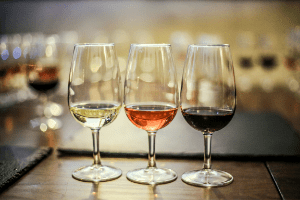 Dine at local restaurants

 – Some of our favorites include Alchemy Market and Café, Grounds, Rob's Place, and Murphys Grille.

 

Visit tasting rooms

 – Some of our favorites 

include

 Aloria Vineyards, Calaveras Winegrape Alliance, and Lavendar Ridge Vineyards.

 

Shop unique boutiques – Some of our favorites include Art on Main, 

Marisolio

 Olive Oil Tasting Bar, 

Rewined

 Designs, and more!

 

Learn about the area's rich history – The town was founded in 1848 by two Irish brothers who established a trading post and gold mining operation. Due to the success of gold mining operations, Murphys quickly developed into a bustling town. 

Today, you can learn more about Murphys' rich past at the local historic sites and interactive museums.

 

Take a guided tour – Learn about the area with one of the historic walking tours offered downtown. Plus, we offer a 

guided wine tasting tour

. 

 
Stay With Us This Summer
It's time to book your summer getaway with us at Courtwood Inn! We offer an array of guest rooms and suites to accommodate every sort of traveler. When you stay with us, you can enjoy homemade breakfasts, outstanding scenic views, five-star amenities, and more!  
There's no time to waste! Browse our accommodations and pick the perfect one for you. We can't wait to host you this summer at Courtwood Inn.