Best Things to Do in Murphys, CA and Calaveras County
The town of Murphys and surrounding Calaveras County area have numerous features that make it very attractive to visit. It's convenient proximity to the Bay Area, Sacramento, Yosemite and the San Joaquin Valley make it a wonderful location, close but far removed from the hustle and bustle of the city. Whether it's relaxation, adventure, shopping, dining or wine tasting: Murphys, Ca and Courtwood Inn offer the perfect escape.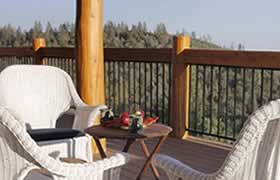 Courtwood Inn is centrally located near all the best things to do in Murphys, CA. Frommer's Travel Guides has designated Murphys as "One of the Top 10 Coolest Small Towns in America." From California wine tours and golf courses to outdoor adventures such as whitewater rafting, hiking and so much more, there is truly something for everyone to enjoy. Beyond Murphys, there are many things to do in Calaveras County. Our inn is about 2-1/2 hours away from Yosemite Valley and many other California destinations, perfect for a day trip.
Below are our recommendations of the best things to do in Calaveras County.
BOATING/CANOEING:
CAVE TOURS:
GOLF:
GOLD PANNING:
HIKING:
MUSEUMS:
PICNICKING:
WHITEWATER RAFTING:
SKIING:
THEATER AND MUSIC- LIVE:
TRAIN/STAGE COACH RIDES:
ZIP LINING:
---
Calaveras County Area Special Events:
CourtwoodWineTours.com
209-763-8687 (tour). Tasting rooms (22+) 0n Main St. Murphys www.calaveraswines.org
Presidents Weekend Wine Event, Murphys
Murphys Irish Day Parade and Street Fair – March weekend closest to 3/17, St. Patrick's Day
Taste of Calaveras, Angels Camp
Jumping Frog Jubilee – Angels Camp, Ca. Calaveras Co. Fairgrounds, mid-May
Fourth of July Fireworks, Ironstone Vineyards
Grape Stomp, first Saturday in October
Murphys Open House, first weekend in December
---
Coming Soon to Courtwood Inn
Massages
Our Courtwood Inn Spa "Game, Set, Massage" on the lower level will be taking reservations for relaxation and deep tissue massage treatments. Please call for availability and cost. Appointments must be scheduled in advance.
Hot Tub
Firepit
Two Unlit Asphalt Tennis Courts
Tennis Lessons